A Novel Technique for Treating Infantile Umbilical Hernia named after Dr. Ganesh Kumar K Ammannaya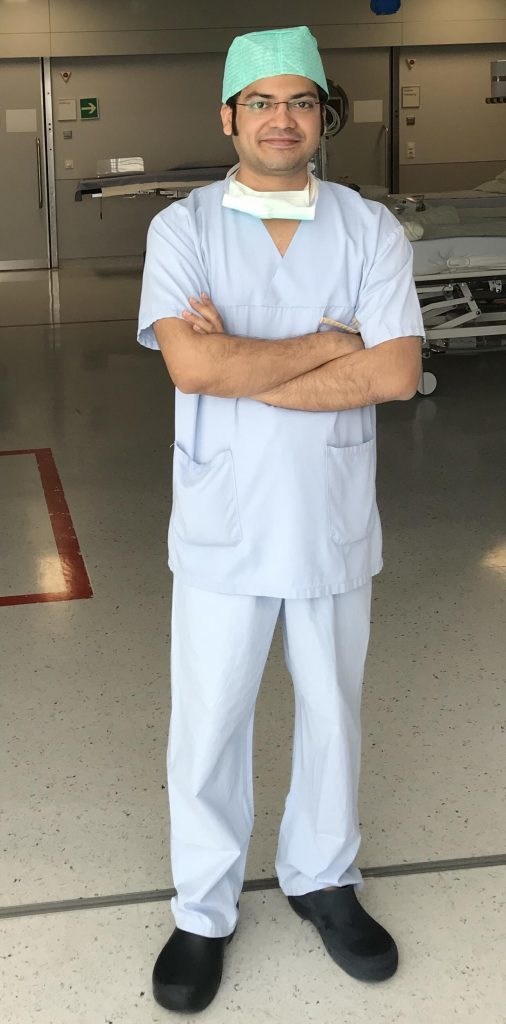 According to NHS, "A hernia occurs when an internal part of the body pushes through a weakness in the muscle or surrounding tissue wall". Umbilical hernias are extremely common in infants and young children. This condition especially occurs in babies born before the due date of the delivery. This condition usually appears as a painless lump appears in or near the navel. Studies have shown an incidence of over 10% in most races. It is found to be more prevalent in premature and low birth weight babies.
Research shows that the cord structures fail to fuse with the umbilical foramen that leaves a patent umbilical ring. When the ring fails to close, it results in an umbilical hernia. The medical world sees this as a benign condition, however parents and caregivers often get worried and anxious. Observations and medical studies have shown that the umbilical hernias usually close by 3 to 5 years of age. Findings have shown that more than 85% close by the age of 6 years on its own unless the defect is large (>1.5cm).
According to the team of researchers, reassurance and observation are the usual management approaches for the vast majority of patients. However, if the defect persists beyond the age of 6 years, it will require a procedure of surgery. Incarceration, although rare, does warn of urgent surgical evaluation and repair. Some might advise taping the hernia but that is not recommended as it has increased the rate of hernia resolution. However, it might cause significant skin breakdown as well as observed in some cases.
This study was conducted by Dr. Ganesh Kumar K Ammannaya & his wife Dr. Ninada Sripad on an infant born at a gestational age of 37 weeks and 4 days. The infant was born through an elective cesarean section. Medical tests showed the child healthy with a normal hematological and thyroid profile. This child was born with umbilical hernia, which was 2.5 x 2.5 cm in dimension. The size of the defect was found to be 1 x 1 cm.
The researchers treated the child conservatively through a simple and new technique. This requires an elastic crepe bandage. Precautions regarding good hygiene were maintained. It was also ensured that the crepe bandage was used throughout the day except while bathing. A crepe bandage, which measured roughly 6cm was used, hence it is advisable to use a broader crepe bandage. This is because a broader crepe will provide more stability and coverage. It will further assist in preventing displacement and will also aid in reducing the size of the hernia at all times when in use.
Findings showed that there was progress that was made from 4 weeks and which was completed through weeks 6-8. Finally, it was seen that the hernia disappeared completely at 8 weeks of treatment. This finding is indeed incredible, as it will reduce parents' anxiety and an infant's suffering in case of any complications.
On observation, the research team found that the hernia did not relapse on maneuvers increasing abdominal pressure such as crying. A clinical examination too confirmed the resolution of hernia, as the defect was no longer palpable.
Statistics show that umbilical hernias are common, occurring in 10 percent to 20 percent of all children. It is believed that infants with low birth weight are more likely to be vulnerable to have an umbilical hernia. One cannot determine which gender it mostly affects as both boys and girls are equally affected.
It does become a definite cause of concern for parents and caregivers until the defect disappears, which might sometimes take as long as 6 years. Earlier researches have suggested trusses and abdominal binders but they have provided inconsistent results. They have their shortcomings. They are not readily available in particular infant size and they are also found to be quite an expensive costing anywhere between 50 and 150 USD. The research team does not promote taping either as it could have a high incidence of skin breakdown. There are other traditional methods such as adhesive strapping to hasten resolution, which have tried before. Some incidents have shown success, "but at the cost of significant skin complications occurring in up to 26% of the treated cases".
After studying the practical application of the aforementioned methods, the research team suggests a novel, simple and reproducible technique. According to them, this technique will provide a speedy resolution of the umbilical hernia in an infant. The technique is known as the "Ammannaya's technique", of "conservative management of infantile umbilical hernia". This technique was reported for the first time in medical literature by Dr. Ganesh Kumar K Ammannaya. Findings suggest that it proved to be a highly successful technique as it achieved complete resolution of a 2.5 x 2.5 cm infantile umbilical hernia with a fascial defect of 1 x 1 cm with 8 weeks of regular treatment.
The research team suggests that it was a highly cost-effective technique, which can be performed in merely 2 USD. In addition to this, the technique is found to be more appealing as there is an absence of skin breakdown or other skin complications. Also, it makes it highly preferable to adhesive strapping. Hence, this can be a boon especially in developing countries where millions of people suffer from poverty and bad health care.
Dr. Ganesh's paper is a brilliant study and is a must-read for the medical and research community. It is a well-researched study and the solution provided is an easy, affordable and non-complex one.
Dr. Ganesh Kumar K Ammannaya is a European Board Certified Cardiothoracic surgeon. He completed his training in Cardiovascular and Thoracic surgery from Sion Hospital, Mumbai with the first rank. He has authored several international papers including the winning of the best paper award in Eurovalve 2017, in Barcelona Spain. He is currently undergoing advanced Master Training Fellowship in Minimally invasive cardiac surgery in Italy, Austria, and Germany. Only 8 cardiac surgeons worldwide have been selected for this prestigious course, which is affiliated to Sant'Anna University, Pisa, Italy.
Media Contact
Company Name: Index of Sciences Ltd.
Contact Person: Jessica Simpson
Email: Send Email
Address:Kemp House, 160 City Road
City: London
Country: United Kingdom
Website: https://indexofsciences.com