Khalifa Alghafri featured on popular lifestyle and sports magazine
Talented Emirati skydiver and Mountain trainer, Khalifa Alghafri, interviewed in Middle East-based extreme, urban, and lifestyle sports magazine, XMotion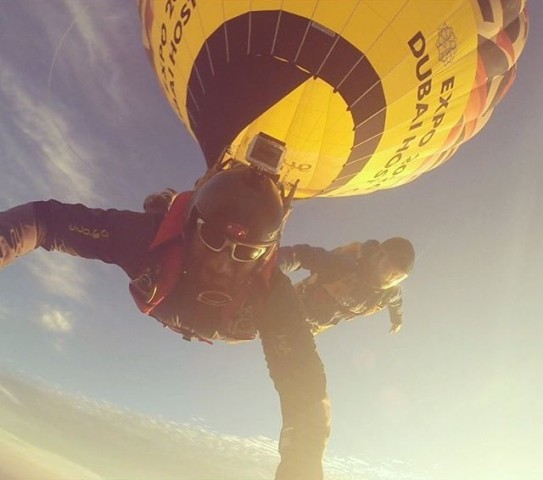 Khalifa Salim Alghafri is a UAE-based adventurer that has continued to attract the attention of millions of people and organizations across the globe. His love for outdoor life and all kinds of adventures has taken to different places, one of which is an interview on the popular Xmotion Magazine. Over the years, Khalifa has become increasingly popular not only in the Middle East but across the globe. His interview on one of the issues of XMotion, therefore, came as no surprise to many as he looks to continue to spread the awareness about outdoor activities.
Outdoor activities are fun, exciting, and can be sometimes educative. This is in addition to the relaxing feature that helps participant calm their nerves usually after surviving a series of daring situations. Extreme sports and activities such as skydiver, mountain climbing, and wingsuit flying have become increasingly popular in recent times, particularly in the Middle Eastern part of the world. One individual that seems to be at the forefront of promoting such activities is Khalifa Alghafri. His love for outdoor life has taken him places, and in his interview with XMotion, he talked about outdoor living and his exploits.
XMotion is the only magazine of its kind in the Middle East, focused on bringing together a wide range of extreme, urban and lifestyle sports. The magazine has featured several notable skydivers and other such enthusiasts of outdoor activities. Interviewing Khalifa Alghafri further reiterates his talent while also bolstering the magazine's support for extreme sports, particularly in the Middle East.
Khalifa is relatively young in the game. However, he has been able to attract the attention of major stakeholders in the world of skydiving and base jumping in just over half a decade. He started by focusing on skydiving and wingsuiting for a couple of years before venturing into base jumping. In the interview, the talented skydiver gave tips to beginners and potential skydivers as they enter into the daring yet fun-filled world of base jumping.
In addition to being a professional diver and jumper, Khalifa is also into hiking and mountaineering.
Khalifa Alghafri uses his social media presence to promote extreme sports while sharing his exploits with his fans and millions of other people across the globe. Khalifa has a strong presence on social media and can be found on Instagram and YouTube.
Media Contact
Company Name: Khalifa Alghafri
Contact Person: Ayman
Email: Send Email
Country: United Arab Emirates
Website: https://www.instagram.com/khalifa_alghafri_uae/