Python-Multiplayer Training Program from Simply Coding Continues to Shine in Amazon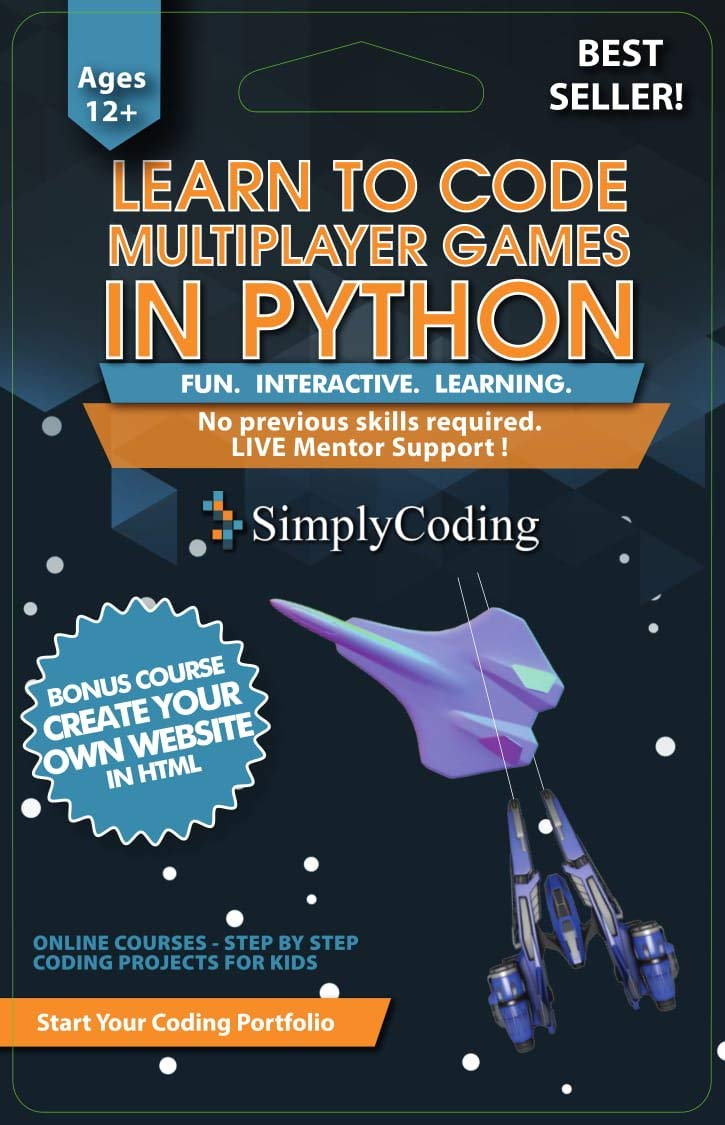 Simply Coding's top rated online training program on Python multiplayer games continues to make a strong impact on Amazon. Suitable for kids aged 12 to 18; this course has been meticulously crafted by a team of professional programmers.
Simply Coding's popular online course Python Multiplayer Adventure Game is now helping more and more young kids learn the basics of computer programming and coding. This program makes learning Python and coding for kids easy like never before by making use of step-by-step, easy-to-follow programming instructions. This course allows the kids to create fun, age-appropriate computer games and challenge their friends. A top rated product in its category, this course is now available in Amazon for $69.99 only.
In the course for computer programming for kids, the students learn real world Python concepts by coding three different games. They also learn the techniques of managing their own coding workspace (on their desktop) and understand how different coding files work together to communicate. Each lesson is broken into smaller sub-lessons with interactions and video reviews. Each lesson ends with a step by step activity to add code to their game on their own computer.
The animation software from Simply Coding also comprises of plenty of video reviews of lessons, online community support, and live question and answer sessions to support the young learners, The company informs that this course has already been used all across the United States and also in Canada, Africa and in the UK. Many home school students have also benefited a great deal from this program. Simply Coding also provides this course for Charter, Private and Independent Schools in California, Utah, Arizona, Iowa, Florida, Alabama, Georgia, Texas, Michigan and Tennessee.
"The goal is to give kids confidence and a real coding experience to help them make more informed life decisions. The course also includes a full lesson on how to upload your games live on the web using github! Their github page will become their online coding portfolio. They'll be able to share this with anyone they'd like to see their work including potential employers," said a spokesperson from Simply Coding.
In his Amazon review, a highly impressed reviewer mentioned, "I got this program for my 11 year old daughter who is very interested in learning how to code. She had never done any coding before but this program made it so easy for her to learn! She jumped right in to it all on her own and didn't even need me to help get her started! She enjoys this program and I feel that it has helped her learn a valuable skill."
To find out more about Simply Coding Game Python-Multiplayer Training Program for Kids, please visit http://www.amazon.com/dp/B01ETTRZ3M
About Simply Coding:
Simply Coding is an organization dedicated to creating high-quality digital learning programs for the children. A number of online courses from the company are now selling successfully on Amazon.com
Media Contact
Company Name: Simply Coding, Inc.
Contact Person: Media Relations
Email: Send Email
Phone: (801) 494-7751
Country: United States
Website: https://simplycoding.org/