Yuta Customs' innovative take on Inking Brushstrokes is gaining popularity among the customers on Etsy
Yuta Customs is a popular Etsy shop that offers innovative and original artworks and art prints, with over 160 options to choose from. Their mesmerizing, wicked and eccentric artwork is being loved by customers worldwide who left great reviews on Etsy. One of the customers says in their review, "The quality is brilliant, very happy! Additionally, it arrived way earlier than I expected and a freebie came with it which was very appreciated."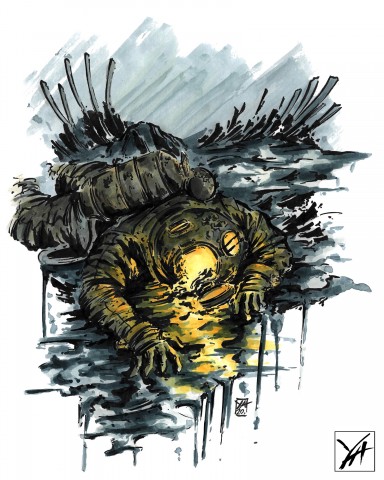 All the artwork is created by Yutacustoms for his evocative brushwork that gives life to the objects of his paintings. Although he is fond of both western and eastern styles of paintings, his major focus is to maintain certain minimalism in his artwork. He takes his inspiration from the Old, dark days of the middle ages, the Dystopian Nea Future of Cyberpunk and anything that speaks to him. What makes Yuta's artwork truly stand out is the unique use of Brushpen, one of the popular tools used by artists, and cartoonists. He uses it to create bold brushstrokes focusing on the essence of the subject. Channeling the notable aspects of the vehicles and emphasizing the dry brush technique he uses to develop that gritty and muddy texture his used vehicle poses.
One of the featured artwork on Yuta's Customs is the Wastelander Autumn original ink and watercolors art print which is from the collection of Yuta's Ink and Watercolors pieces from 2017-2018. It featured original concepts and scenes by Yuta that he decided to express illustratively while daydreaming. The Made to order Ink and Watercolor wall décor comes in three sizes ranging from Small ( 6 X 8 inches), and Medium ( 8 X 10 inches). These artworks can instantly enhance the look and feel of any living space.
Another plus factor of Yuta customs is that they are environment-friendly as all the art pieces are made from 90% Bamboo fiber with 10% cotton. These are sturdy, eco-friendly and come in an ultra-matte finish, offering a better alternative to regular glossy cardstocks. Also, anyone who is interested in Yuta's original art can only get it by contacting him directly, which can be done by joining his email list. Yuta also does a quarterly giveaway of 11×14 prints for those who join the club.
The customers can also request custom made art prints by Yuta by adding the details of their desired design in the "add a note" section during checkout.
More information can be found at Yuta's official website.
Check out all the artwork for sale on Yuta's Etsy shop.
Media Contact
Company Name: Yutacustoms
Contact Person: Media Relations
Email: Send Email
Country: Canada
Website: yutacustoms.com