San Antonio Gunslingers to kick off in the American Arena league in 2021
Texas-based professional arena football team, San Antonio Gunslingers, set to kick off in March 2021 in the American Arena League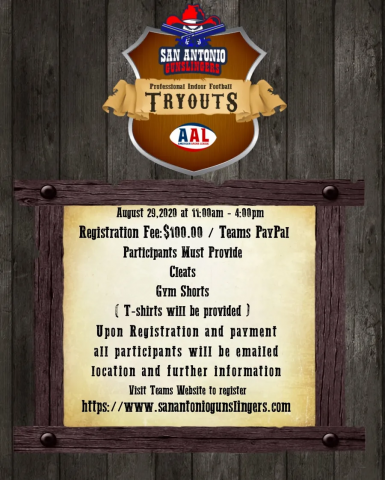 San Antonio Gunslingers has made it clear that the team will be playing in the American arena league come March 2021. The professional arena football team was founded by four football lovers who are looking to challenge the status quo in the league by taking on the heavyweights and making a mark. In a similar vein, the team is set to host its athletic tryouts on Saturday, July 18, 2020, at 10 AM.
The athletic tryouts scheduled for July 18 is open to the media and Players that were personally invited from professional football backgrounds.
The American Arena League (AAL) started in 2018 and was created as a minor professional indoor football league by a merger between Arena Pro Football (APF) and the Can-Am Indoor Football League. Currently consisting of 15 teams, the league has become increasingly popular in recent times. While the COVID-19 crisis has disrupted the league and other major events, the American Arena league is set to make a major comeback in March 2021, especially with the entry of San Antonio Gunslingers.
San Antonio Gunslingers is set to give lovers of football in and around San Antonio the best of experience as it challenges for honors in the American Arena League. The team is owned by Jason Torres, Hector Garcia, Jonathan Young, and Juan Ramirez. San Antonio Gunslingers looks geared up for the new season that will kick off in March 2021, a claim that has been substantiated with the hiring of Tony Hernandez.
San Antonio Gunslingers also recently entered into a partnership deal with Hustle Athletic Performance, as the team's first performance partner. Fans of the team can also purchase t-shirts and other merchandise on the website to show their support for their favorite professional arena football team.
For more information about San Antonio Gunslingers and how to register for the tryouts, please visit – https://sanantoniogunslingers.com/.
About San Antonio Gunslingers
San Antonio Gunslingers is a professional arena football team in San Antonio Texas, USA. The team is owned by four football lovers who are keen on giving football enthusiasts an amazing experience through the American Arena League.
Media Contact
Company Name: San Antonio Gunslingers
Contact Person: Media Relations
Email: Send Email
Phone: (210)962-1250
Country: United States
Website: sanantoniogunslingers.com/