'The Price of Fake is Real' by Donna McPherson Delivers the Hard Truth about Business Failure And Shares Her "Profit Recipe"
The typical behavior of even smart business people is to never admit how bad things are. The price of this 'fake' and pretended confidence is always real and damaging. In a new book, "The Price of Fake Is Real: How To Stop Pretending & Gain Real Business Success", entrepreneur and business coach Donna McPherson reveals the fix to business failure, a "Profit Recipe" that can literally save the business owner time and money.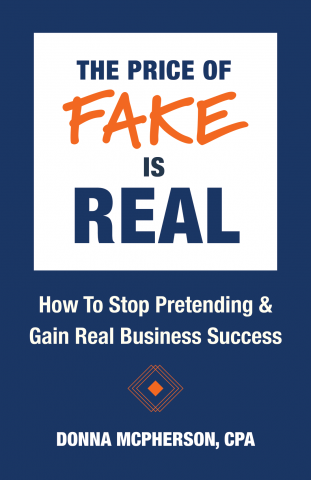 Piscataway, NJ – July 15, 2020 – The lure of starting one's own business catches up with everyone, many of whom invest their entire life savings in the hope of making it big. But when the chips are down, they continue to pretend as if nothing is wrong, that things will get better over time, only to sink deeper and deeper into debt.
"The Price of Fake is Real" shows how to actually work on the foundation and real purpose of one's business with a "Profit Recipe". The reader will discover the ingredients that go into the making of success, and a powerful way to run a business profitably and generate more income, greater freedom, and more enjoyment.
"Entrepreneurs who achieve real success are guided by facts and numbers, instead of just instincts. If you are in business to make money, every decision you make and every step you take must be toward your money destination," says Donna McPherson.
Only about half of the startups founded every year make it to their fifth year. Over a fifth simply die out in the very first year. Many have attempted to explain 'why', but realistically speaking, no one needs to be told the reason. The brutal fact is, some people aren't meant to be in business. They don't know how to create a business that generates a regular stream of income. What's needed is how to remove the uncertainties behind their failure, and help them create the right foundation.
"The Price of Fake is Real" states the raw fact that the only real thing in business is profit. That's the foundation of a successful business. Readers will understand how ignoring this truth gets a business into a lot of trouble. They will also read about the solution that Donna calls her "Profit Recipe".
Donna McPherson is a certified public accountant (CPA), business strategist, and former restaurateur. She is a speaker, sought after business coach and profit strategist, mentoring entrepreneurs on creating their own unique "Profit Recipe" to bank bigger profits. Donna can be contacted for speaking, business coaching, CFO for hire and strategic planning.
For more information, please visit: www.donnamcphersoncpa.com
Media Contact
Contact Person: Donna McPherson, CPA
Email: Send Email
Address:371 Hoes Lane – Suite 200, Piscataway
City: Middlesex
State: New Jersey, 08854
Country: United States
Website: donnamcphersoncpa.com