Multiple System Atrophy Pipeline Insight, 2020
(ALBANY, US) Delveinsight has launched a new report on Multiple System Atrophy Pipeline
Multiple System Atrophy Pipeline Insight, 2020 report by DelveInsight outlays comprehensive insights of present clinical development scenario and growth prospects across the Multiple System Atrophy (MSA) market. A detailed picture of the Multiple System Atrophy (MSA) pipeline landscape is provided, which includes the disease overview and Multiple System Atrophy (MSA) treatment guidelines.
The assessment part of the report embraces in-depth Multiple System Atrophy (MSA) commercial assessment and clinical assessment of the Multiple System Atrophy (MSA) pipeline products from the pre-clinical developmental phase to the marketed phase. In the report, a detailed description of the drug is proffered including mechanism of action of the drug, clinical studies, NDA approvals (if any), and product development activities comprising the technology, Multiple System Atrophy (MSA) collaborations, licensing, mergers and acquisition, funding, designations, and other product-related details.
Multiple system atrophy (MSA) is a progressive neurodegenerative disorder characterized by acombination of symptoms that affect both the autonomic nervous system (the part of the nervous system that controls involuntary action such as blood pressure or digestion) and movement. The symptoms reflect the progressive loss of function and death of different types of nerve cells in the brain and spinal cord. The initial symptoms of MSA are often difficult to distinguish from the initial symptoms of Parkinson's disease and include: slowness of movement, tremor, or rigidity (stiffness); clumsiness or incoordination; impaired speech, a croaky, quivering voice; fainting or lightheadedness due to orthostatic hypotension; bladder control problems, such as a sudden urge to urinate or difficulty emptying the bladder.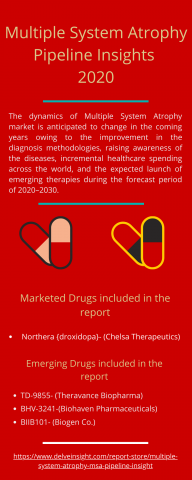 Request for Free Sample Page:- https://www.delveinsight.com/sample-request/multiple-system-atrophy-msa-pipeline-insight
Multiple System Atrophy Pipeline development activities
The report provides insights into:
All of the companies that are developing therapies for the treatment of Multiple System Atrophy (MSA) with aggregate therapies developed by each company for the same.
Different therapeutic candidates segmented into early-stage, mid-stage and late stage of development for the Multiple System Atrophy (MSA) treatment.
Multiple System Atrophy (MSA) key players involved in targeted therapeutics development with respective active and inactive (dormant or discontinued) projects.
Drugs under development based on the stage of development, route of administration, target receptor, monotherapy or combination therapy, a different mechanism of action, and molecular type.
Detailed analysis of collaborations (company-company collaborations and company-academia collaborations), licensing agreement and financing details for future advancement of Multiple System Atrophy (MSA) market.
The report is built using data and information traced from the researcher's proprietary databases, company/university websites, clinical trial registries, conferences, SEC filings, investor presentations, and featured press releases from company/university web sites and industry-specific third-party sources, etc.
Marketed Drug included in the report
Northera (droxidopa): Chelsea Therapeutics
Emerging drugs included in the report
TD-9855: Theravance Biopharma
BHV-3241: Biohaven Pharmaceutical
BIIB101 : Biogen
Table of content
1. Report Introduction
2. Multiple System Atrophy (MSA)
3. Multiple System Atrophy (MSA) Current Treatment Patterns
4. Multiple System Atrophy (MSA) – DelveInsight's Analytical Perspective
5. Therapeutic Assessment
6. Multiple System Atrophy (MSA) Late Stage Products (Phase-III)
7. Multiple System Atrophy (MSA) Mid Stage Products (Phase-II)
8. Early Stage Products (Phase-I)
9. Pre-clinical Products and Discovery Stage Products
10. Inactive Products
11. Dormant Products
12. Multiple System Atrophy (MSA) Discontinued Products
13. Multiple System Atrophy (MSA) Product Profiles
14. Multiple System Atrophy (MSA) Key Companies
15. Multiple System Atrophy (MSA) Key Products
16. Dormant and Discontinued Products
17. Multiple System Atrophy (MSA) Unmet Needs
18. Multiple System Atrophy (MSA) Future Perspectives
19. Multiple System Atrophy (MSA) Analyst Review
20. Appendix
21. Report Methodology
22. About Delveinsight
Related Reports
Media Contact
Company Name: DelveInsight Business Research LLP
Contact Person: Yash Bhardwaj
Email: Send Email
Phone: +919650213330
Address:304 S. Jones Blvd #2432
City: Las Vegas
State: NV
Country: United States
Website: https://www.delveinsight.com/