Peripheral T-Cell Lymphoma (PTCL) Market, Size, Share, Trends, Epidemiology Forecast till 2030
DelveInsight's "Peripheral T-Cell Lymphoma (PTCL) Market Insights, Epidemiology, and Market Forecast-2030" report delivers an in-depth understanding of the Peripheral T-Cell Lymphoma (PTCL), historical and forecasted epidemiology as well as the Peripheral T-Cell Lymphoma (PTCL) market trends in the United States, EU5 (Germany, Spain, Italy, France, and United Kingdom) and Japan.
Peripheral T-Cell Lymphoma (PTCL) is a diverse group of aggressive lymphomas that develop from mature T-cells and natural killer (NK) cells.
Peripheral T-Cell Lymphoma (PTCL) market report provides current treatment practices, emerging drugs, Peripheral T-Cell Lymphoma (PTCL) market share of the individual therapies, current and forecasted Peripheral T-Cell Lymphoma (PTCL) market Size from 2017 to 2030 segmented by seven major markets. The Report also covers current Peripheral T-Cell Lymphoma (PTCL) treatment practice/algorithm, market drivers, market barriers and unmet medical needs to curate best of the opportunities and assesses the underlying potential of the market.
Key Highlights from the report:-
PTCL accounts for 7–15% of NHLs in the United Sates and EU-5 countries
PTCL accounts for around 20–25% of NHLs in Japan
EU5 countries occupied around 28.48% of the patient pool amongst 7MM in 2017
PTCL Treatment aims to cure and includes the use of combination chemotherapy regimens, localized radiotherapy, stem cell transplants and steroid therapy, etc.
It is most often treated with a combination of chemotherapies which includes CHOP (cyclophosphamide, doxorubicin, vincristine, and prednisone) and CHOEP or EPOCH (etoposide, vincristine, doxorubicin, cyclophosphamide, and prednisone).
In some cases, stem cell or bone marrow transplant is recommended at the end of combination chemotherapy. The most commonly used steroids are prednisone, dexamethasone, and methylprednisone. They are used as a part of the combination chemotherapy regimen. For the Relapsed/Refractory PTCL patients, Gemcitabine containing regimens are also being used as the conventional chemotherapy option.
Later, to improve the poor outcome of PTCL patients, novel agents that target various pathways were manufactured. Hematopoietic stem cell transplant (HSCT) following a cytotoxic regimen constitutes yet another integral part of PTCL management comprising of both Autologous (auto-SCT) as well as Allogeneic Stem Cell Transplantation (allo-SCT). The success, however, depends upon the subtype of PTCL being treated and results are highly discordant.
Apart from the available approved therapies, there are some off-label therapies and other emerging therapies that are available for PTCL treatment. Some of the off-label therapies which have been listed in the NCCN guidelines for Relapsed PTCL are MabThera (Rituxan), Bortezomib, Bendamustine, Lenalidomide, and Alemtuzumab.
The outcome was compared with a matched cohort of diffuse large B-cell lymphoma (DLBCL) patients, and prognostic factors were assessed using unilabiate and multivariate analyses.However, two approved drugs (Folotyn and Istodax) in Japan are rejected by the EMA due to a lack of evidence in the clinical benefit.
Scope of the Report
The report covers the descriptive overview of Peripheral T-Cell Lymphoma (PTCL), explaining its causes, signs and symptoms, pathophysiology, diagnosis and currently available therapies
Comprehensive insight has been provided into the Peripheral T-Cell Lymphoma (PTCL) epidemiology and treatment in the 7MM
Additionally, an all-inclusive account of both the current and emerging therapies for Peripheral T-Cell Lymphoma (PTCL) are provided, along with the assessment of new therapies, which will have an impact on the current treatment landscape
A detailed review of Peripheral T-Cell Lymphoma (PTCL) market; historical and forecasted is included in the report, covering drug outreach in the 7MM
The report provides an edge while developing business strategies, by understanding trends shaping and driving the global Peripheral T-Cell Lymphoma (PTCL) market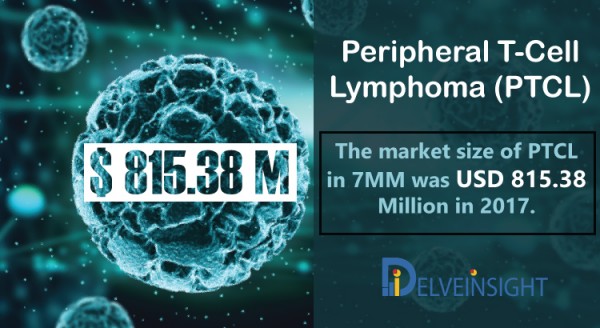 1. Key Insights
2. Executive Summary of Peripheral T-Cell Lymphoma (PTCL)
3. Competitive Intelligence Analysis for Peripheral T-Cell Lymphoma (PTCL)
4. Peripheral T-Cell Lymphoma (PTCL): Market Overview at a Glance
5. Peripheral T-Cell Lymphoma (PTCL): Disease Background and Overview
6. Patient Journey
7. Peripheral T-Cell Lymphoma (PTCL) Epidemiology and Patient Population
7.1. Epidemiology Key Findings
7.2. Assumptions and Rationale: 7MM
7.3. Epidemiology Scenario: 7MM
7.3.1. Peripheral T-Cell Lymphoma (PTCL) Epidemiology Scenario in the 7MM (2017-2030)
7.4. United States Epidemiology
7.4.1. Peripheral T-Cell Lymphoma (PTCL) Epidemiology Scenario in the United States (2017-2030)
7.5. EU-5 Country-wise Epidemiology
7.5.2. France Epidemiology
7.5.4. Spain Epidemiology
7.5.6. Japan Epidemiology
8. Treatment Algorithm, Current Treatment, and Medical Practices
9. Unmet Needs
10. Key Endpoints of Peripheral T-Cell Lymphoma (PTCL) Treatment
11. PTCL Marketed Products
11.1. List of Marketed Products in the 7MM
11.2. Drug Name: Company Name
List to be continued in report
12. PTCL Emerging Therapies
12.1. Key Cross
12.2. Drug Name: Company Name
List to be continued in report
13. Peripheral T-Cell Lymphoma (PTCL): Seven Major Market Analysis
14. Attribute analysis
15. 7MM: PTCL Market Outlook
15.1. United States: Market Size
15.2. EU-5 countries: Market Size and Outlook
15.3. Germany Market Size
15.4. France Market Size
15.5. Italy Market Size
15.6. Spain Market Size
15.7. United Kingdom Market Size
15.8. Japan Market Outlook
15.8.1. Japan Market Size
16. Access and Reimbursement Overview of Peripheral T-Cell Lymphoma (PTCL)
17. KOL Views
18. PTCL Market Drivers
19. PTCL Market Barriers
20. Appendix
20.1. Bibliography
20.2. PTCL Report Methodology
21. DelveInsight Capabilities
22. Disclaimer
23. About DelveInsight
Media Contact
Company Name: DelveInsight
Contact Person: Priya Maurya
Email: Send Email
Phone: +919650213330
City: Albany
State: New York
Country: United States
Website: https://www.delveinsight.com/