Discover how to safely reopen a business now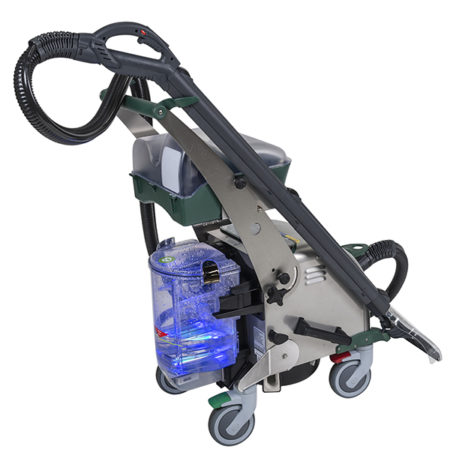 Our Blue Evolution one of many models of amazing commercial steam cleaning units available. Clean Faster, Better, and Cheaper. You can clean safely without the costly chemicals, and clean faster and better.
Yes, you can reopen your business and reduce the spread of COVID-19 with proper planning and the right cleaning tools.
A business owner must have dependable tools and proven ways to test for cleanliness. US Steamvac offers this unique combination of eco-friendly cleaning tools and equipment.
Yes – We're Open! Time to reopen your business? We can help.
It's been a challenging year for everyone, especially business owners worldwide. As we try to find the new norm – businesses face unprecedented challenges as they safely reopen and eager to greet and serve customers again in person and help reduce the spread of COVID-19.
Success will largely depend on a clean and sanitized establishment, so customers feel safe. In addition, you must provide the proper cleaning tools so your staff can adequately clean but not be exposed to costly toxic chemicals that create health risks. This is where we can help.
What if I told you there are innovative solutions to clean your business daily without a stockpile of expensive chemicals, quickly spray surfaces to reduce spreading COVID19, and know in 15 seconds if it's clean?
Thanks to the Anti-Virus Team – you can rest assured you've got the best team available to reopen successfully. The A-Team's method is simple but effective: clean, disinfect, and test. Here's how it works…
CLEAN:
With the innovative Blue Evolution, a dry vapor steam cleaner with integrated vacuum and UV light, it is possible to clean and destroy viruses, bacteria, and germs on surfaces like never before. Imagine cleaning without worrying about running out of cleaner wipes, washing rags, or inhaling toxic fumes. You can now clean better and cheaper without the hassle of all those items.
Dry vapor steam-vacuum allows you to clean almost any surface with one machine and in one motion. It's true–nearly any surface can be cleaned and sanitized, such as leather or fabric furniture, walls, floors, glass, wood, tile, marble and you can use it anywhere, like kitchens, bathrooms, delivery vehicles, public, and private rooms and spaces. The cleaning power of these cleaning systems can't be matched. You get a deep-down clean and disinfection that you can trust. The Blue Evolution steam-vacuum cleaning systems also offer the added protection for your staff with the germ eradication ability of UVC light in the water filtration recovery tank. That should be an industry standard, but it is not.
DISINFECT:
After cleaning, you can quickly protect any surface by applying a disinfectant with an electrostatic sprayer to help reduce the spread of viruses. With natural disinfectants, you can protect any surface in any industry, from foodservice to health care. It's the best protection on the market today to help reduce spreading viruses while your business is open for service.
Here's how it works. The electrical charge of the disinfectant particles is changed from Neutral to either Positive (+) or Negative (-). Because the sprayed particles are charged, they will have an attraction up to 75 times that of gravity and will seek out items to land on versus "floating" in the air. As the like-charged particles disperse and land, they avoid colliding and spread out evenly across all sprayed surfaces providing excellent solution coverage. How does this help you? Well, first it's FASTER: Compared to towels or a hand pump sprayer application, an electrostatic sprayer applies solution up to 70% faster. Secondly, it's CHEAPER: Compared to hand pump sprayer, an electrostatic sprayer uses up to 65% less solution to cover the same area. And, it's BETTER: Because electrostatic sprayers charge the solution's particles, which spread and continue seeking out uncovered space providing better coverage.f your business has the unique challenge of disinfecting large square footage, the electrostatic sprayer backpack can help achieve your goals in less time and cover nearly 23,000 square feet on a single tank of fluid.
TEST:
In just 15-seconds, you can prove to yourself, staff, and customers, your business is clean and sanitized with the finest testing tool on the market today. No more guessing if your business is clean – you can be certain with an ATP Test Meter which detects and measures contamination in on surfaces by measuring adenosine triphosphate (ATP), the universal energy molecule found in contaminates. This simple and easy-to-use test meter can provide instant feedback on the effectiveness of your cleaning methods and equipment. This fast testing method will prove you are keeping customers and staff as safe as possible.
As a company, US SteamVac is committed to providing you with the cleaning solution that works for a successful reopening. As business owners, you have enough to worry about, let us provide the world's best cleaning tools and equipment. With the proper tools, your staff will feel more comfortable, and your customers will see, smell, and feel the difference for themselves.
Do not worry, our company has the other solutions you are looking for as well. We provide air and water filtration so nothing is left to chance. Our air filters are equipped with a germ warfare filter membrane, so any airborne virus particles are captured during business hours and not allowed to circulate. At night, when unoccupied, the same air filter can disinfect all the heating and ventilation duck work with proven germ-killing ozone treatment.
Serve your customers great tasting water chlorine-free. No need for expensive water deliveries – you can now have the best water quality available on demand. Side by side taste tests between expensive bottled water and our filtered water prove it's not only substantially less expensive to filter your own water on-site, but better and drastically reduces single-use plastic bottle waste.
We are certain we can partner together with your business to help you have an amazing business to reopen and recovery. You can make your business clean, test the results regularly, and have your business smelling and looking amazing. When you clean with steam, you use no chemicals which is beneficial to the environment. If you want to save money, help the environment, and never compromise on the safety of your business environment, visit our website today.
Media Contact
Company Name: US STEAM VAC
Contact Person: Erin Bashaw
Email: Send Email
Phone: 8332208658
Address:7810 King Street
City: Anchorage
State: AK
Country: United States
Website: ussteamvac.com