Award-Winning Life Coach's New Book Reveals Secrets to a 'First Class Life™'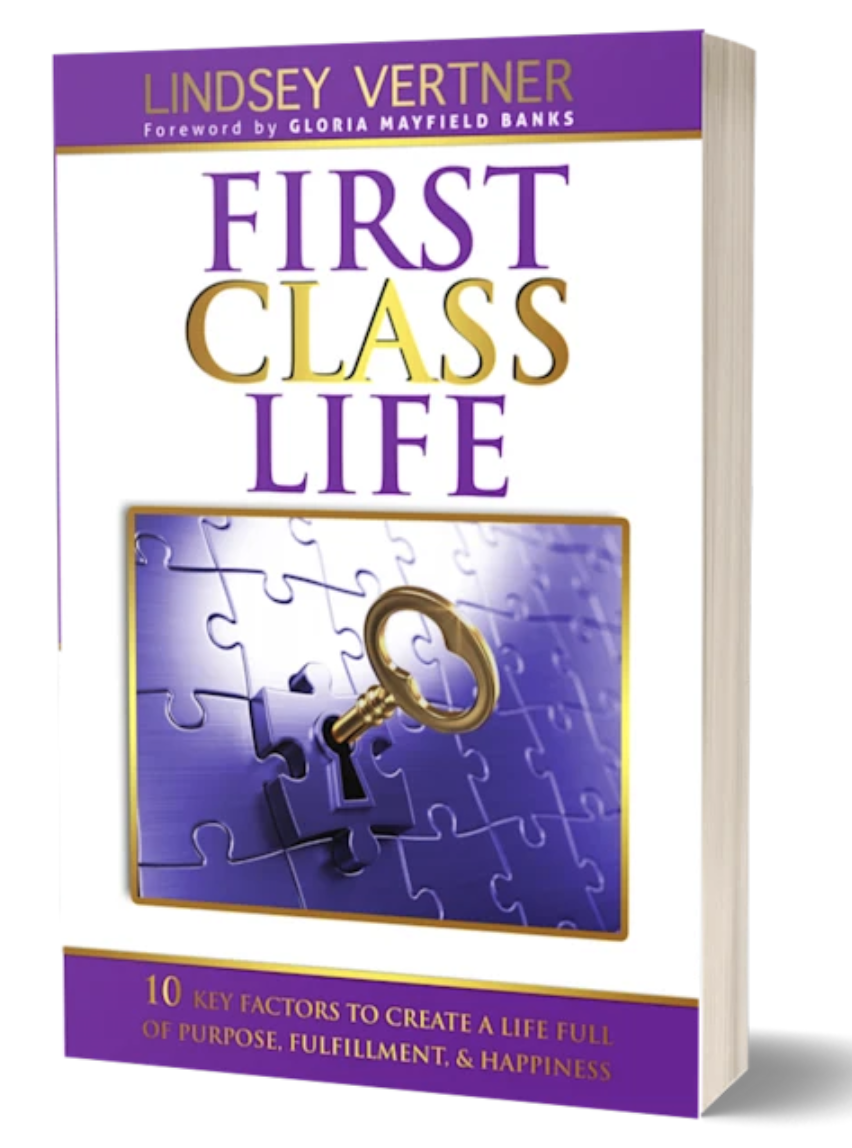 Lindsey Vertner discloses self-fulfillment strategies after a death-defying accident
July 20, 2020 – A married mom-of-two who miraculously survived brain death in a serious car accident before going on to become a Peak Potential Strategist and motivational speaker has released her book on how you too can overcome any obstacles and create the life of your dreams.
First Class Life™: 10 Key Factors To Create A Life Full of Purpose, Fulfillment, & Happiness by Indiana-based Lindsey Vertner takes readers through the ten crucial factors that will help them move from an 'autopilot-lifestyle' to living a life full of meaning and purpose.
For Lindsey, the book represents a small victory in a long journey that began with a bang… literally!
She was critically injured in a single-car wreck in May 2007 as she was traveling on the highway from after having dropped in on her mother as a surprise visit for Mother's Day.
She suffered massive head injuries and was declared brain dead on the scene and life-lined to a trauma hospital in Indianapolis, IN – only being kept alive on life support while authorities scrambled to find her close relatives. Medical teams proceeded to perform emergency surgeries despite being pronounced brain dead again upon arrival. Experts were shocked as Lindsey's seemingly critical, near-dead situation improved over the next few days.
The former graduate of both Indiana University and Liberty University fought back from significant physical injuries and being paralyzed to turn her life around on all levels. Along with a strenuous physical recovery, Lindsey had to overcome a mental and emotional recovery, as well. Being dubbed a "miracle woman" and "walking miracle" by the community, she admits to having feelings of not being good enough.
Fast forward to July 2020, she is now married with two children and running multiple thriving businesses. She coaches ambitious leaders and millennial moms "how to master their mindset and balance their lives through self-care, self-worth, and self-discipline" – which she coined the '3 Pillars of Self'. She also coaches start-up entrepreneurs how to clarify their purpose, overcome their blocks, and create an action plan towards building a thriving a business. She has won awards for her work as a coach and was nominated for the 'Speaker Rising Star of The Year' award by the prestigious SpeakerCon in Washington, D.C.
Combining her traumatic experience with her educational studies and work with clients around the world, Lindsey wittily dives into the fundamental key factors that teach one how to live a First Class Life™.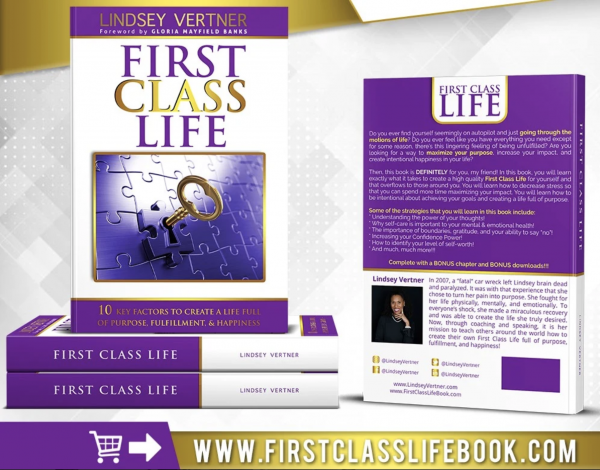 Lindsey states, "A First Class Life™ isn't about how much money you have. Instead, it's about the quality of life you are creating for yourself. It's about walking in your purpose and being intentional about creating happiness in every moment that you can. It's about shedding the masks that we put on for others and instead, showing up 100% authentically you and being unapologetic about it."
With a foreword written by Dr. Gloria Mayfield Banks (internationally renowned speaker, self-made multi-millionaire, and #1 elite executive national sales director of Mary Kay), the self-help book looks at a number of topics such as being faithful, self-care, leadership, self-discipline, self-worth and being confident. Complete with a bonus chapter and bonus resources, the First Class Life™ book will show readers how to be intentional about achieving their goals, decreasing stress, and maximizing the impact they make in their own lives and in the lives of others.
"This book is important because it teaches you the power of your thoughts and the importance of mastering your mindset. I cover it all from the effects of boundaries to your mental and emotional health to how gratitude attracts abundance. I've lived through the strategies I teach in this book, and I've coached others through these effective methods that provide impactful results."
Lindsey explains, "Harris Polls state that 2 out of every 3 people are unfulfilled and unhappy with their lives. That's because happiness is not something you can buy. You have to create it, and this book gives readers the keys to elevating their happiness and purpose both personally and professionally. I know that if I can literally come back from death's bed then there is NO obstacle that you can't overcome!"
First Class Life™ and its coordinating coloring book can be purchased at www.FirstClassLifeBook.com. Anyone who buys the book by Thursday, July 31, 2020 will be invited to a virtual book launch party with giveaways on Thursday, August 6 at 9 pm EST.
Media Contact
Company Name: FirstClassLifeBook
Contact Person: Lindsey Vertner
Email: Send Email
Phone: +1(812) 391-9203
Country: United States
Website: http://www.FirstClassLifeBook.com