The Skin Research Institute's CocoCleanse Shampoo & SolShine Conditioner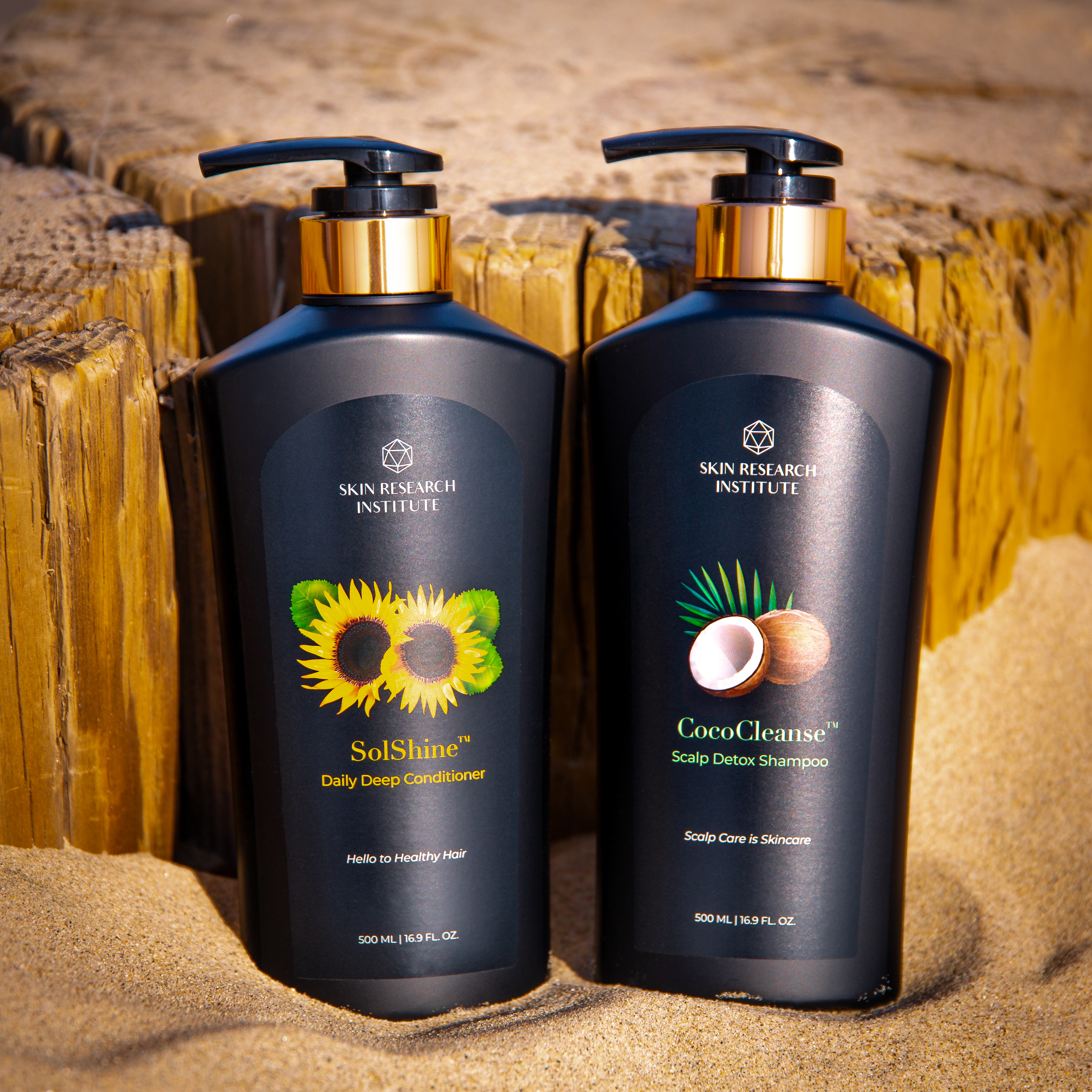 The Skin Research Institute, in Los Angeles, announces their latest product launch of CocoCleanse Scalp Detox Shampoo and SolShine Daily Deep Conditioner. Both are formulated all-natural, vegan and cruelty-free. Their proprietary blend is designed to exfoliate your scalp, while leaving your hair with lasting hydration, more shine, and less frizz.
The Skin Research Institute Launches Their Coconut & Volcanic Mineral Infused Shampoo, that's infused with Peppermint Oil to stimulate hair growth, along with their Argan & Sunflower Seed Oil Conditioner for a fuller, thicker hair with a healthy shine.
July 21, 2020 – The Skin Research Institute (SRI) is proudly launches their long awaited daily deep cleansing shampoo and conditioner, utilizing the latest in scalp, follicle and hair research and scientific developments.
The challenge in contemporary developments for shampoos and conditioners are finding the right formulas that cleanse without damaging the scalp or hair. The primary cause of hair-loss and breakage is damaging ingredients from lower quality formulas, as well as nutrient loss from aging.
Products found on shelves nationwide typically do not use all-natural, vegan, cruelty-free ingredients, since they are difficult to source in large enough quantities. That's why many manufactures use common ingredients found in many other household products. However, SRI has developed a unique formula following higher industry standards, keeping hair healthy after each wash.
The following harmful but common industry ingredients are excluded from their formula as stated on their website for CocoCleanse & SolShine: Parabens, Mineral oil, Sulfates, Phthalates, Hyroquinone, Talc, Titanium dioxide Oxybenzone, Formaldehydes & formaldehyde-releasing agents.
Their formula consists of three carefully selected ingredients (Coconut Water, Volcanic Minerals and Sunflower Seed Oil) each fulfilling a specific purpose and together restore volume, body and texture to hair.
Beginning from the scalp, the Volcanic Minerals exfoliate dead skin cells and excessive oil. This is designed to prevent dandruff, which is primarily caused by conditions created by irritated and oily skin. By utilizing the natural elements of Volcanic Minerals, the foundation for healthy hair is renewed after each application.
The Coconut Water in the formula is then able to hydrate as powerfully and as quickly, as it is in a beverage. Given that Coconut Water naturally contains the electrolytes of calcium, potassium, magnesium and phosphorus, it immediately hydrates to restore hair to health.
Finally, Sunflower Seed Oil is rich in the antioxidant Vitamin E and Omega 9, which stimulate hair growth. Since it's fortified with Vitamin E, it's able to lock moisture in, preventing hair from becoming frizzy. This leaves hair with volume, softness, and shine.
Krystee Souza, the Director of Skin Research Institute stated "as a brand committed to women's beauty and wellness, it was necessary for us to create a product that women would use daily. Not only do these products prevent the deterioration of one's scalp and hair, as so many other formulas do, women can actually be confident that their hair is revitalized and restored each day."
Mrs. Souza continues, "Women are savvy shoppers and they make over 70% of all retail purchases. Today, women expect more and that's why they shop with brands like ours. They not only want, but demand that the brands they buy from are All-Natural and Cruelty-Free."
She explained that "Smaller brands like ours are growing faster than we can keep up, because it's easier today than ever before to get our message out. Using Coconut Water to hydrate naturally is better than chemical causing side-effects created in a lab. And while it costs more to make a quality product, using the highest industry standards, women know that the benefits of keeping beautiful, shiny and healthy hair well past retirement is worth it."
Mrs. Souza stated that "This is the most exciting time in our company's history. We've listened to our customers and now we're able to create exactly what they're looking for and even deliver it to them just how they want—in environmentally friendly packaging. Specifically with our new CocoCleans & SolShine formulas they're Vegan, All-Natural and of course Cruelty-Free."
The Skin Research Institute has launched their website CocoCleanseShampoo.com yesterday. SRI has a line of products that can be found at the SkinResearchInstitute.com or their Amazon Store. Mrs. Souza stated that in the next coming months they will have at least two more products launching as well.
SRI has an "A" ranking on the official Better Business Bureau website. Additionally, their Facebook and Amazon reviews affirm their positive reputation and long-term customer retention.
To find out more about the Skin Research Institute's CocoCleanse & SolShine launch, click here: CocoCleanseShampoo.com
About Skin Research Institute:
SRI's mission is to celebrate women's beauty and age gracefully. They avoid dangerous ingredients and manufacturing processes, while utilizing the latest developments in Korean beauty and research, from the scientific community, to ensure effective and natural solutions to lasting beauty without side-effects. Their products are All-Natural and Cruelty-Free. Most importantly, they stand behind all their products with a two-month guarantee to ensure complete satisfaction.
Media Contact
Company Name: Skin Research Institute
Contact Person: Media Relations
Email: Send Email
Phone: 1-800-958-1094
Address:2425 Olympic Blvd Suite 4000
City: Santa Moinica
State: CA
Country: United States
Website: cococleanseshampoo.com/