Stellar Crafts Launches the Ultimate Wool Ironing Mat With 100% Pure New Zealand Wool
The Diy Startup is Taking Innovation & Creativity to the Next Level & It Aims to Make the Lives of the People Much Easier Then Ever Before
San Francisco, CA, USA – September 24, 2020 – An emerging American DIY startup, Stellar Crafts has proudly announced the launch of its all-new and revolutionary ironing tool called Wool Ironing Mat. This simple and quirky invention will say goodbye to messy ironing, and it is now available in stock on Amazon with worldwide shipping. Moreover, Stellar Crafts is getting an overwhelming feedback from around the world on this Wool Ironing Mat, which is already changing the lives of many people from all walks of life.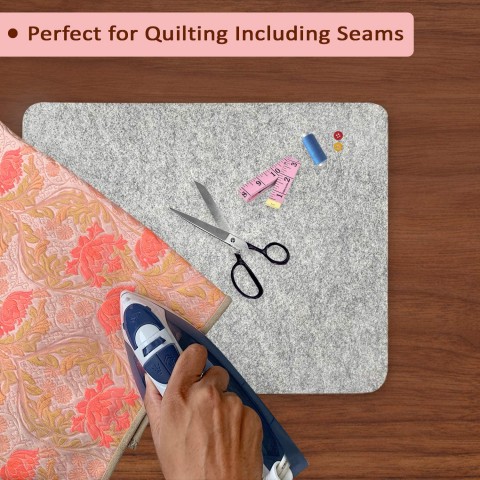 "We take great pride in producing the best quality product for our valued customers, and we are extremely grateful for the phenomenal response we have received so far for our wool ironing mat." Said the spokesperson of Stellar Crafts, while talking about the wool ironing mat. "Our all-new wool ironing mat is made with pure 100% premium quality sheep wool from New Zealand, and our team makes no compromises on the quality of each wool ironing mat." She added.
Unlike most pressing mats available in the market, this particular mat leaves no black residue because there are no synthetic fibers, dyes, or bleach involved. Only natural wool is used, which is why the mat is already creating a major buzz worldwide. According to the spokesperson, this wool ironing mat is an ideal solution for various projects, and it is a perfect choice for traveling.
In order to ensure absolute customer satisfaction, Stellar Crafts is offering this wool ironing mat with a 30 day money back guarantee, which means that if a user is not satisfied with the results, full refund can be claimed. Other features of this mat include its portability, compact size, thick and densely packed wool with no shredding or tearing, and much more. The founder of Stellar Crafts is fond of small DIY projects, and enjoys traveling on quilting retreats, which is the primary inspiration behind the creation of this mat.
For more information and to order now, please visit the website of Stellar Crafts at: www.stellarandsimple.com
Media Contact
Company Name: Stellar Crafts
Contact Person: Stella Matthews
Email: Send Email
Phone: 9164578960
Country: United States
Website: https://www.stellarandsimple.com/