Serial Startup Founder Unveils Exciting New Social Media App For NFT Communities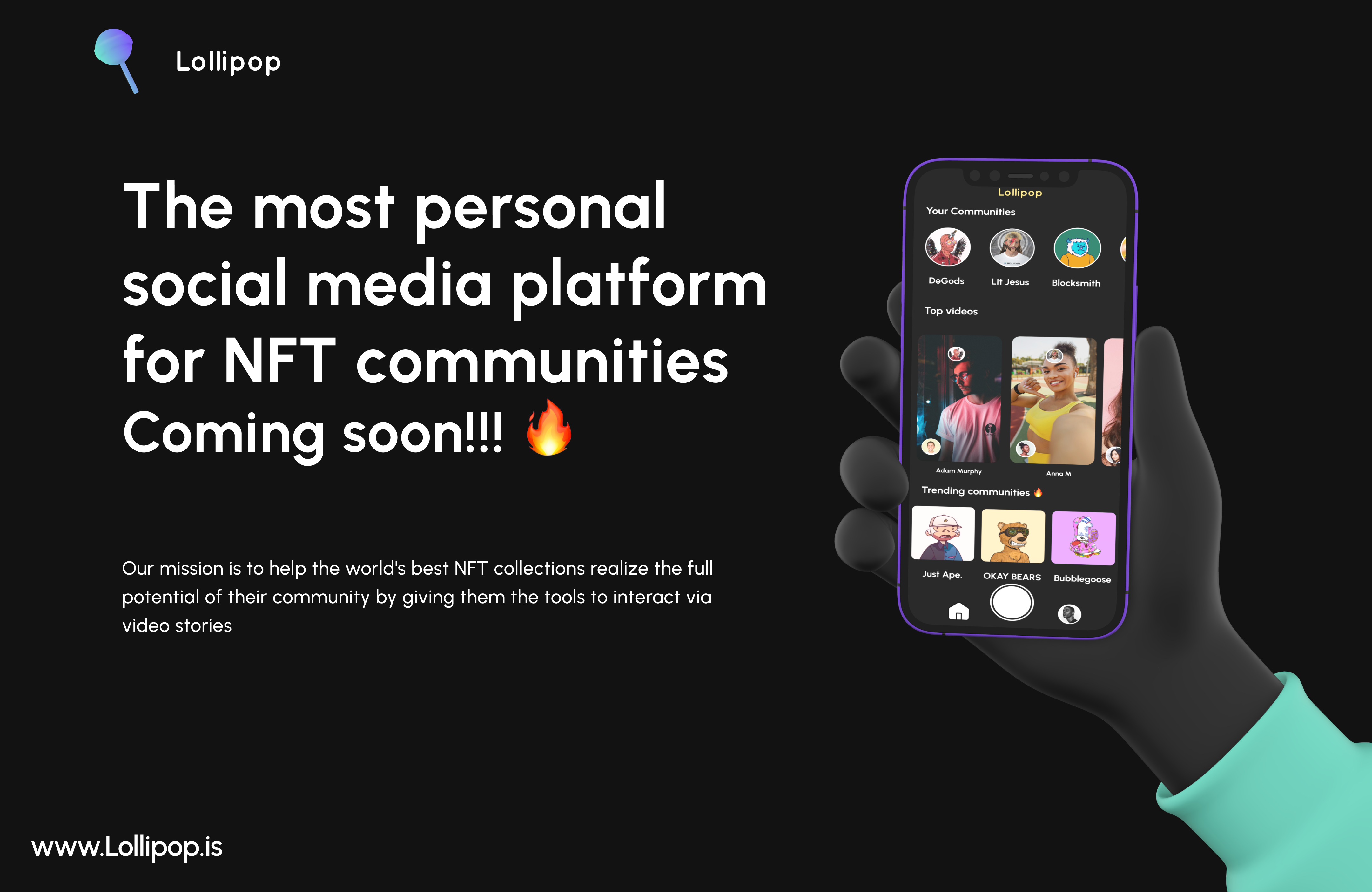 Lollipop is a revolutionary new platform designed to help the world's best NFT collections realize the full potential of their community by giving them tools to interact via video stories

Serial startup founder, Hirbod Bigvand, has unveiled an exciting new social media app for NFT communities named Lollipop which is launching in a year. The new startup by the exceptional entrepreneur seeks to build a mobile app for NFT communities to bring culture, fashion and creativity to their community, which is missing from the world of NFTs up to now.
Driven to build the ultimate home for NFTs, Lollipop packs a variety of impressive features that bring renewed vigor to the nonfungible scenery. With its intuitive tools, holders of a project can keep up with the latest video stories from their communities. In addition to showcasing their NFT collections to the world, users of Lollipop can also express themselves through short stories, posting their content, and flexing their styles.
"Our camera tools will allow users to upload their unique content with pictures, text, and video content. Style meets functionality with unique filters, high-resolution picture quality, and NFT project-related custom stickers. After you make your content, you can post to one or more communities at once!"
Hirbod Bigvand, who came here with no money nor could speak English when he first moved to the US has evolved into a phenomenal entrepreneur with building successful startups to his name. The business founder grew from working 2 jobs just to survive during high school to studying finance at the University of Texas at Dallas (UTD) where he got introduced to the shiny world of startups and Silicon Valley.
After raising 1.1 million dollars from the top tier venture capitalist firms for his location-based app called Surfboard, Hirbod Bigvand exited to chase better opportunities and is today the founder and CEO of Lollipop. So far, Lollipop has closed two venture capital firms in San Francisco such as Maximize Risk ventures and Helix Affiliates partners.
Bigvand has hinted that his goal as the founder of Lollipop is to bring 1 billion users into NFTs and introduce them to the new world of Cryptocurrency. When he is not running around and building companies, Hirbod Bigvand loves to work out and play tennis. The individual has been playing tennis all his life and learned so much from playing tennis, especially how to be a fighter and be competitive. To learn more about Lollipop, please reach out to the company via the contact info below.
Media Contact
Company Name: Lollipop
Contact Person: Hirbod Bigvand
Email: Send Email
Country: United States
Website: www.lollipop.is