The EP "The Songs for the Socially Distanced" by Tapedeck 45 is for everyone effected by the recent struggles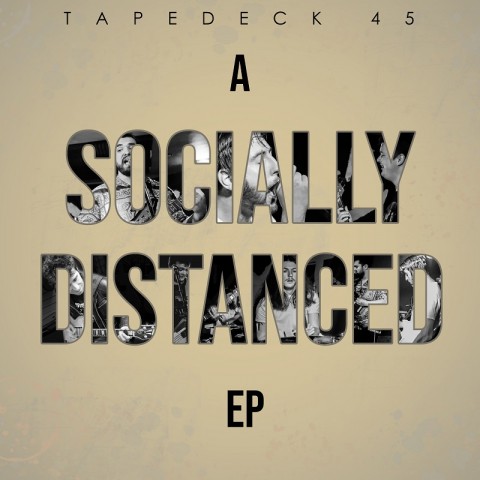 The world has come to a shuddering halt due to the on-going pandemic and people are stuck in entirely different places and circumstances. To make these difficult times a bit less estranged for people, the band Tapedeck 45 has released their EP titled "The Songs for the Socially Distanced", which contains comforting rock and roll songs for those disconnected people to connect to.
Well known for a laid back approach and lively atmospheres at concerts, Tapedeck 45 is a Scottish Indie Rock band comprising of 5 talented musicians. They believe in playing music that makes them happy but artistically, they feel they are usually 'somewhere between the realms of punk and rock at times'.
The EP "The Songs for the Socially Distanced" is a beautiful collection of 3 astounding songs- "Home", "Reclaim Me", and "All You Gotta Do", and was released on July 12th on all major music platforms. The first track of the EP "Home" conveys the emotions of staying at home and explores the emotions of not being able to see the outside world and meet our nearest and dearest ones. The song "Reclaim Me" encourages people to stay strong and maintain normality while performing basic everyday chores. This track is accompanied by a music video where the fans of the band, have sent clips of thier experiences during lockdown and has been compiled to create an enchanting time capsule video. The last song of the EP "All You Gotta Do" is especially for those who like to get drunk and party, and the difficulties they will face during these trying times.
"We only had one microphone to record most of this and considering we couldn't be in the same room as each other we are really happy with the outcome and I feel everyone has made a huge contribution. We were determined to make something out of the bad situation and I certainly feel we've done that", says Tapedeck 45, telling more about the challenges they faced while recording their recent release.
Tapedeck 45 hopes to bring joy in people's lives with their music in this difficult time and urges them to stay positive and move forward in life with confidence.
Listen to the EP "The Songs for the Socially Distanced" now live on all music platforms.
Media Contact
Company Name: Tapedeck 45
Contact Person: Andrew Laurie, Sam Stewart
Email: Send Email
Phone: 07809611168
Country: Scotland
Website: www.facebook.com/tapedeck45