Synovial Sarcoma Market Insights, Epidemiology, and Market Forecast-2030
(ALBANY, US) Delveinsight has launched a new report on Synovial Sarcoma Market
DelveInsight's Synovial Sarcoma Market Insights, Epidemiology, and Market Forecast-2030 report delivers an in-depth understanding of the Synovial Sarcoma , historical and forecasted epidemiology as well as the Synovial Sarcoma market trends in the United States, EU5 (Germany, Spain, Italy, France, and United Kingdom) and Japan.
The Synovial Sarcoma market report provides current treatment practices, emerging drugs, Synovial Sarcoma market share of the individual therapies, current and forecasted Synovial Sarcoma market Size from 2017 to 2030 segmented by seven major markets. The Report also covers current Synovial Sarcoma treatment practice/algorithm, market drivers, market barriers and unmet medical needs to curate best of the opportunities and assesses the underlying potential of the market.
Synovial sarcoma (SS) is a rare malignancy of mesenchymal origin, accounting for approximately 8–10% of all soft tissue sarcomas (STS). Despite its name, synovial sarcoma is not related to the synovial tissues that are a part of the joints. The disease starts most commonly in the legs or arms, but can appear in any part of the body. Being a high-grade tumor, it spreads to distant sites in about half of the cases. Synovial sarcoma is generally divided into three histological subtypes: monophasic, biphasic, and poorly differentiated.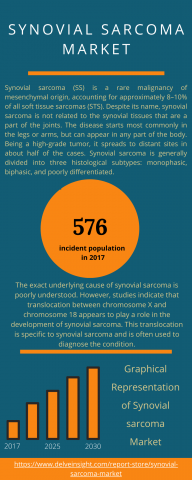 Request for Free Sample Page:- https://www.delveinsight.com/sample-request/synovial-sarcoma-market
Synovial sarcoma Market Outlook
Synovial sarcoma (SS) is a rare sarcoma driven by a translocation between SS18 and SSX 1, 2, or 4. The hybrid transcription factor SS18: SSX alters SWItch/Sucrose Non-Fermentable (SWI/SNF) chromatin remodeling and global methylation patterns that may allow future therapeutic opportunities. Current treatment of Synovial Sarcoma involves multimodal approach, incorporating surgery, chemotherapy, and radiotherapy.
Currently, surgery remains the mainstay for treatment of synovial sarcoma. While considering the overall disease management perspective, first-line treatment usually consists of wide margin surgery plus radiotherapy. However, DelveInsight's market forecast model is based entirely on pharmacological therapies and does not include any procedural or surgical methods. As per the latest treatment paradigms, chemotherapy regimen is administered for a fixed number of cycles followed by a watchful waiting approach to assess the optimum response. Doxorubicin and ifosfamide constitute the first-line approach generating a large segment of synovial sarcoma's chemotherapeutic market.
Doxorubicin with or without ifosfamide remains the mainstay of first-line chemotherapy for synovial sarcoma treatment although data from recent studies suggest that SS patients might benefit from first-line combination treatment of ifosfamide with doxorubicin over monotherapy doxorubicin. However, due to rarity of disease, this cannot be considered a final conclusive result. Compared with doxorubicin, ifosfamide has the advantage of having no dose-limiting cumulative toxicity. Also, given that it shows activity in SS patients, ifosfamide (in high doses) is the favored second-line treatment option. Other alternative options for second-line and beyond include Yondelis (Trabectedin) and Pazopanib (Votrient) which are administered when patients relapse or fail to respond to first-line treatment options. Trabectedin (Yondelis), an antitumor agent is approved in Europe for the treatment of adult patients with advanced soft tissue sarcoma after failure of anthracyclines (doxorubicin) and ifosfamide, and also for those who are unfit to receive these agents, whereas in the US, it has been approved for specific types of Soft Tissue Sarcoma, but its utility as a therapeutic for SS treatment is uncertain.
Scope of the Report
The report covers the descriptive overview of Synovial Sarcoma , explaining its causes, signs and symptoms, pathophysiology, diagnosis and currently available therapies
Comprehensive insight has been provided into the Synovial Sarcoma epidemiology and treatment in the 7MM
Additionally, an all-inclusive account of both the current and emerging therapies for Synovial Sarcoma are provided, along with the assessment of new therapies, which will have an impact on the current treatment landscape
A detailed review of Synovial Sarcoma market; historical and forecasted is included in the report, covering drug outreach in the 7MM
The report provides an edge while developing business strategies, by understanding trends shaping and driving the global Synovial Sarcoma market
Table of content
1. Key Insights
2. Executive Summary of Synovial Sarcoma
3. Competitive Intelligence Analysis for Synovial Sarcoma
4. Synovial Sarcoma : Market Overview at a Glance
5. Synovial Sarcoma : Disease Background and Overview
6. Patient Journey
7. Synovial Sarcoma Epidemiology and Patient Population
8. Treatment Algorithm, Current Treatment, and Medical Practices
9. Unmet Needs
10. Key Endpoints of Synovial Sarcoma Treatment
11. Marketed Products
12. Emerging Therapies
13. Synovial Sarcoma : Seven Major Market Analysis
14. Attribute analysis
15. 7MM: Market Outlook
16. Access and Reimbursement Overview of Synovial Sarcoma
17. KOL Views
18. Market Drivers
19. Market Barriers
20. Appendix
21. DelveInsight Capabilities
22. Disclaimer
23. About DelveInsight
Related Reports
Synovial sarcoma (SS) – Epidemiology Forecast to 2030
Synovial Sarcoma – Pipeline Insights, 2020
Media Contact
Company Name: DelveInsight Business Research LLP
Contact Person: Yash Bhardwaj
Email: Send Email
Phone: +919650213330
Address:304 S. Jones Blvd #2432
City: Las Vegas
State: NV
Country: United States
Website: https://www.delveinsight.com/