Bundor Valve Passed API Certificates, The Company Strength Was Further Enhanced
News 1: Bundor valve is certified by API-6D and API-609 of American Petroleum Institute
Bundor valve has successfully passed the API-6D certification and API-609 certification issued by American Petroleum Institute API. The certificate has been issued, which is another promotion of general Valve qualification certification!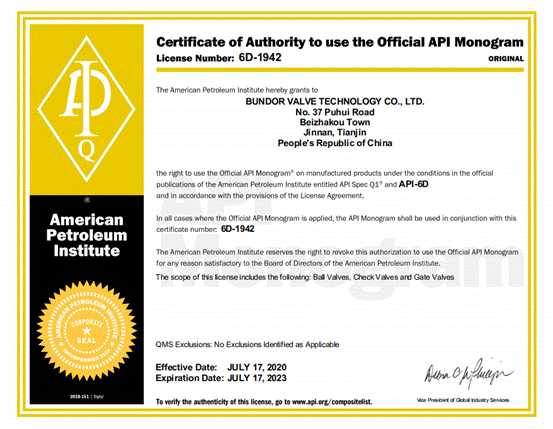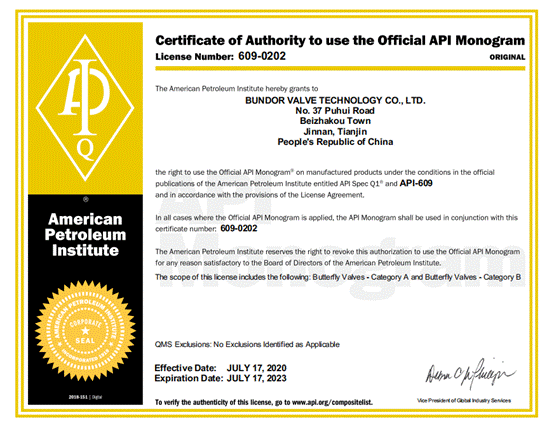 In order to achieve more in-depth cooperation with new and old customers and further meet the constantly improving needs of Bundor customers, Bundor valve has been constantly striving to improve product quality and production research and development capabilities, and strive to provide customers with better products and services. Bundor valve wholeheartedly looks forward to cooperating with all customers to achieve a win-win situation!
What is API authentication?
API stands for American Petroleum Institute. Founded in 1919, API is the first national business association in the United States and one of the earliest and most successful chambers of Commerce in the world to formulate standards. The organization is based on the characteristics of the industry and its own needs within the industry. In 1924, API specification was formulated to guide the production of oil industry related products. The API specification developed by THE API organization has been widely adopted by countries around the world due to its advanced nature, universality, security and the increasing influence of the U.S. oil industry worldwide. Therefore, API has evolved into an authoritative academic organization of petroleum industry across national boundaries.
News 2: African customers purchase Bundor stainless steel butterfly valves, check valves and other valve products!
Project Name: African customers purchase Bundor stainless steel butterfly valves, check valves and other valve products
Customs Name: A company in Africa
Purchase of valves: Stainless Steel Butterfly Valve, Butterfly Swing Check Valve, Threaded ball valve, Flange ball valve
Customs Need: Used in the mining industry
Our client is an African trading company, mainly undertaking various engineering projects, involving a wide range of industries, mainly mining, chemical plants, oil refineries, and so on. They have a high-quality requirement for the valve. So far, we have successfully cooperated with them twice.
For the first time in cooperation with the client, they purchased stainless steel wafer lined fluorine butterfly valve, stainless steel butterfly check valve, stainless steel screwball valve, stainless steel flange ball valve and so on from us. After receiving the goods, the customer expressed that they were very satisfied with the product quality and delivery time, which directly contributed to the second smooth cooperation between us.
In the second cooperation, the customer purchased a batch of American standard DN80 stainless steel filters from us. After receiving the goods, they said that the product quality of our valve is as good as ever, and can fully meet its purchase requirements. After that, they will continue to cooperate with Bundor valve, hoping that both sides can maintain a stable partnership.
Media Contact
Company Name: Henan Bundor Flow Control Co., Ltd.
Contact Person: Li Lei
Email: Send Email
Phone: +86-379-63150781
State: Henan
Country: China
Website: http://www.bundorvalve.com