Art of Storytelling is Proud to Announce the Release of Caroline Allen's Fourth Novel "Water" Which Launches October 5, 2020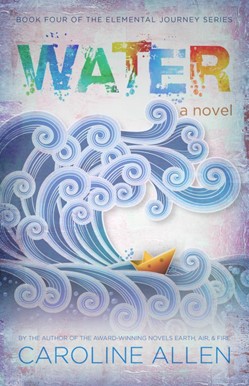 "When we live our purpose, we become grounded and centered in truth in who we are. Everything becomes easier. Why else are we here on this planet at this time? If we want to make a difference in a world undergoing chaos, we must start with ourselves." – Caroline Allen
Award-winning author Caroline Allen's fourth novel in the "Elemental Journey Series, Water," launches October 5, 2020.
Estacada, OR – September 29, 2020 – Wildfires, hurricanes, pandemics, social arrest – at this time of significant change comes a novel that tackles the question of finding purpose amid chaos and aligning with one's true nature to be the change one wishes to see in the world. Set in Seattle in the 1990s, "Water" follows a young woman as she grapples with a call to spiritual/creative purpose, a life she wants nothing to do with. Who are we when everything is stripped away from us? Who are we meant to be? Do we have the right to refuse a spiritual call to transformation?
Early reviews for the book are raving about "Water."
"Emotional and gripping, Water is set against a time of great social change. The novel flows into an uncommon metaphysical territory, making the invisible real, spirit palpable, and the quest for healing the driving force behind the soul's purpose. Water quenches our collective thirst for authenticity." — Rev. Judith Laxer, author of Along the Wheel of Time: Sacred Stories for Nature Lovers
ABOUT THE BOOK
"Water" is all about finding purpose. In the book, we learn to:
* Hone our greatest passions — the world needs us.
* Focus on what we love, not on what we hate.
* Take simple daily actions to find and live our purpose.
* And much more.
When we live our purpose, we become grounded and centered in truth in who we are. Everything becomes easier. Why else are we here on this planet at this time? If we want to make a difference in a world undergoing chaos, we must start with ourselves. "Water" is the fourth book in the series. The other books are "Earth," "Air," and "Fire."
All for books can be purchased at https://www.artofstorytellingonline.com.
ABOUT THE AUTHOR

Caroline Allen is a former award-winning international journalist (Tokyo, London, Asia), and current award-winning novelist. As a book and creativity coach, she has worked with thousands of people worldwide on the very issue of purpose for the past twenty-five years. The novels in her five-book Elemental Journey Series follow one protagonist over four books as she comes of age and transforms in a world rattled by climate chaos and social change.
For more information or to schedule a public appearance, book signing, or interview with Caroline use the contact her through her website http://www.artofstorytellingonline.com or email her at [email protected]
Media Contact
Company Name: Absolute Author Publishing House
Contact Person: Dr. Melissa Caudle
Email: Send Email
Phone: 504.467.7100
Address:1123 Williams Blvd
City: Kenner
State: LA
Country: United States
Website: http://www.artofstorytellingonline.com