AoonuAuto's Premium Illuminated Door Sills Enhance Vehicles' Safety & Appearance
Traditionally, scuff plates were used to protect the exterior door sills of a car from wear and tear. More recently however, scuff plates have come to act as a signal for drivers and passengers when getting out of the car at night and also a personalized auto parts to express car owners' personalities.
As a leading custom car accessories brand, AoonuAuto is committed to providing the most trusted car accessories and excellent cusomization services to match drivers' diverse tastes and demands. There are more than choices of car door sill protectors light logo for drivers to choose, as well as colour modes, control modes and connection types.
It is easy to board or get off of a car in the dark, with illuminated scuff plates. At the same time, it has the effect of adding 'wow' factor to the car.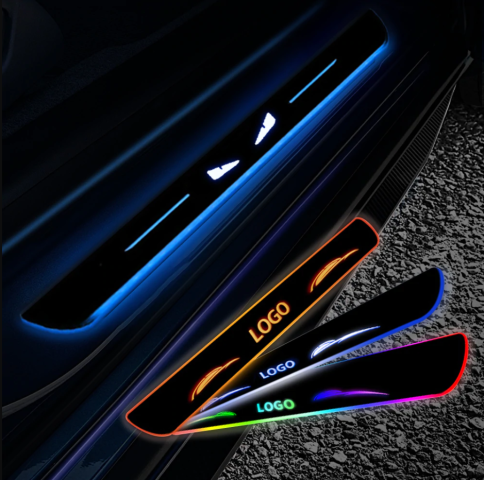 The AoonuAuto's custom LED scuff plates allow drivers to express themselves with a variety of choices and lighting patterns. The quality acrylic materials are promised to be long-lasting and last up to 10 times longer than the plastic ones. Drivers can customize their vehicle withs different options such as design, logo or words to suit their personal desires. Customized LED car door sill plates are designed to enhance safety and car appearance improvements.
With five different colour modes for the LED door sill light, you can select the perfect one depending on your preferences. The single color stay on mode is simple, whereas the single color glow & flash mode will add more lively effect to the vehicle.
There are another three exciting modes just for the LED door sill protector. The different colors are automatically changing, blinking and glowing to make the vehicle stand out from the crowd. Auto-changing mode of led door sill protector doesn't need remote control. The illuminated door sills change different colors automatically in a fixed cycle of flowing, breathing and flashing after opening the car door.
As the name suggests, RF remote control mode and App remote control mode of illuminated door sill plates are controlled by RF and App to change lighting colors and rhythm modes. So driver can change among different RGB colors and different glowing modes through RF or App as they want. What's exciting to car enthusiasts that AoonuAuto adds sound sense and music feature into the LED door sill with RF or App control innovatively. Car enthusiasts and drivers can enjoy colourful car life and parties whenever and wherever they want!
Video Link: https://www.youtube.com/embed/EBGcpqrTPYo
Drivers can choose from 10 different car door sill pan styles. The options of either Sport Fashion or Racing Feeling satisfies customers unique desires. These illuminated door sills are rated IP67 waterproof, so they can be utilized safely in extreme weather conditions such as rain, fog, snow or storms. In addition to the door sill protector's bright glow in the dark, it also enhances visibility for driver and passengers getting in or out of the car – especially at night. The lit-up led door sills not only enhances the safety of drivers but also gives passengers more visibility in dark conditions; the illuminated door sill plate allows you to enjoy the glow light under any bad weather.
With the development of the automobile industry and the reverse drive of the customization demands of drivers & car enthusiasts, illuminated scuff plates are not just a protector for the original door sills anymore but are focused on giving drivers more opportunities to show off their unique styles. Whether to improve the safety performance or car appearance aesthetics, it's a good investment to upgrade cars with customized luminous door sills.
Media Contact
Company Name: AoonuAuto
Contact Person: Jason Huang
Email: Send Email
Country: China
Website: www.aoonuauto.com