Why should Traders use Tapbit (Billance) Exchange?
The crypto industry touched a $3 Trillion market cap in 2021, and this is because of several unique platforms and offerings. Although global cryptocurrency adoption is increasing, there is one caveat: much bad attention is also being drawn to the space. In the last few months, we have seen the ecosystem collapse, Centralized finance platforms bite the dust, and billions in user's funds lost. Although the industry is still nascent, the current situation leaves a lot to be desired.
Despite these, there are several positives about the crypto market, one of which is Tapbit Exchange.
What is Tapbit Exchange?
Ranked amongst the first 100 cryptocurrency exchanges in the world, Tapbit is a crypto exchange with some of the most advanced technical tools for traders. Even with its huge technicality, it is still revered for its easy-to-navigate user interface and fast processing speed.

Apart from these, the platform has an average daily volume of $800 million, meaning there is no liquidity issue. While all these are good advantages, Its emphasis on wallet security through different wallet storage types, SSL encryption, and multiple signatures is its comparative advantage.
With the current security issues in the industry, Tapbit still holds its position as a pinnacle of trust and integrity in securing users' funds. Its cutting-edge technology also makes it up-to-date with the latest security measures in the crypto space.
There are several ways you can use Tapbit to your advantage.
Spot trading:
Do you want to buy and sell cryptocurrencies? Or perhaps hold for the long term? Tapbit is your go-to exchange. We offer the chance to trade over 100 cryptocurrencies with live prices and ultra-low transaction fees.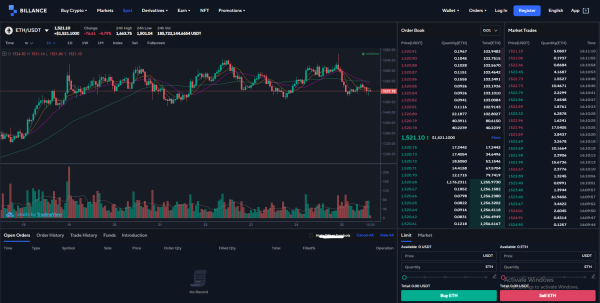 If you are new to the crypto market, spot trading will most likely be your first cryptocurrency experience. Tapbit also offers a sophisticated market maker system to ensure you are never short of liquidity anytime you want to withdraw.
Derivatives Trading:
Apart from spot trading, you can also trade derivatives on Tapbit. You can trade both sides of the market and use leverage to increase the returns on your bets. With Tapbit, you are exposed to tokens with low slippage, and you can set your TP&SL (Take profit and stop loss) with one click.
Copy trading:
Busy to study the market? You can still make money trading cryptocurrencies by following the trade of someone you choose. Tapbit offers you this privilege, and the interesting part is that you only pay a sharing fee with the trader if you make a profit. The fee is currently set at 10% of your profit.
NFT Marketplace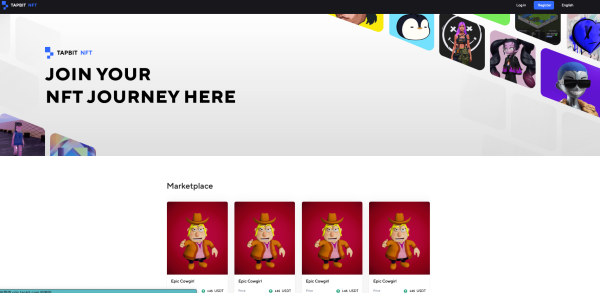 With the increased demand for NFTs, Tapbit will launch our NFT marketplace very soon. It will allow you to interact with creators and their work while earning from buying and selling the tokens.
Why should you use Tapbit?
1. Top Notch Security
Security is the main advantage of Tapbit. With cutting technologies offering a comprehensive and multi-layered, Level-2 offline signature, it is clear that users' funds' protection is our primary goal. The platform also takes responsibility for errors occurring from the platform.
2. Effective Customer Service
Our customer service team works round the clock to ensure that problems are quickly resolved in a highly professional way. They check and respond to issues, queries, and questions 24/7, and the average user response tie is 5 minutes. We are aware of the business we operate, and being swift with responses is a way to exude trust to our users. We put ourselves in the shoes of the users and respond accordingly.
3. Insurance
Tapbit has recently partnered with Matrixport to offer $40 million in insurance during times of extreme market conditions. This was done in two insurance investments of $20 million. With this allegiance, Tapbit has a leading blockchain-based financial service platform as a partner to ensure that any losses arising from operational errors on the side of the company are quickly resolved.
The partnership with Matrixport is the first strategic corporation by Tapbit, and it not only helps with the security and safety of users' funds, but it also helps ensure rapid global implementation for its international clients.
Importance of Insurance
Leveraged positions are more likely to have price gaps in unpredictable markets, which might instantly send a trader's equity into a liquidation zone if they don't have enough margin in their positions to fully compensate the winners. Insurance Funds act as a buffer in these market conditions and ensure that winners are paid in full.
In ADLs and socialised loss schemes, profitable traders' positions are liquidated to compensate for insolvent traders' losses. This is injustice for traders who carefully manage risk Insurance funds, on the other hand, attempt to prevent these disruptive strategies by establishing a central organisation that is intended to take on excess losses.
4. Others
Apart from these, you get some other advantages from using Tapbit. There is a rebate system where you get some discount on trading fees plus other benefits once you reach a certain trading benchmark. More active traders get these rewards instead of one-time lump dum deposits/withdrawals. Also, the System does not operate an order-book matching mechanism. Rather, it uses a money market approach to ensure buying and selling are not met with any resistance.
Summary
Tapbit has always been a frontrunner in terms of security. Its cutting-edge technology makes it up-to-date with the latest security measures and the several features offered put it in a class of its own, ranked with some of the best exchanges in the world. It is clear that the company takes its customer-centric goals seriously as its user interface, execution speed, and funds security are unmatched. With all of the recent hacks and scams in the crypto space, it is reassuring to see a company like Tapbit that puts security first. Have you tried investing in Tapbit? What are your thoughts on the platform?
Website: https://www.billance.com/
Twitter: https://twitter.com/billanceglobal
LinkedIn: https://t.me/BillanceExchange|
Medium: https://medium.com/billance
Media Contact
Company Name: Billance
Contact Person: Media Relations
Email: Send Email
Country: United Kingdom
Website: https://www.billance.com/