Atopic Dermatitis Market to Register Incremental Growth During the Forecast Period (2022-32), Asserts DelveInsight | Evommune (EVO101), Alphyn (AB-101a), Nektar Therapeutics (LY3471851/NKTR-358)
As per DelveInsight's assessment, globally, about 100+ key pharma and biotech companies are working in the Atopic Dermatitis therapeutics landscape based on different Routes of Administration (RoA), Mechanism of Action (MoA), and molecule types. Several of the therapies are in the advanced stages of clinical development and are expected to launch in the coming years. Currently, LEO Pharma has its Atopic Dermatitis drug candidates in the most advanced stage of clinical development.
DelveInsight's "Atopic Dermatitis Market Insights, Epidemiology, and Market Forecast 2032" report delivers an in-depth understanding of the disease, historical and forecasted epidemiology, as well as the Atopic Dermatitis Market size, share, and trends in the seven major market (7MM) (i.e., the United States, EU5 (Germany, Spain, Italy, France, and United Kingdom) and Japan).
The Atopic Dermatitis market report covers emerging drugs, current treatment practices, market share of the individual therapies, and current & forecasted market size from 2019 to 2032. It also evaluates the current treatment practice/algorithm, key drivers & barriers impacting the market growth, and unmet medical needs to curate the best of the opportunities and assess the underlying potential of the market.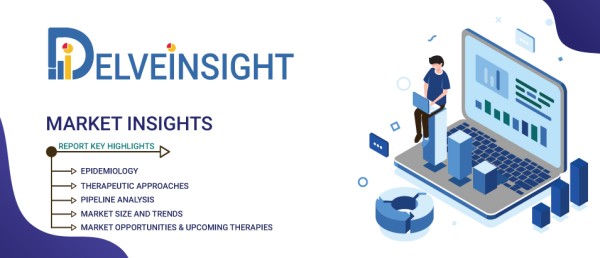 Atopic Dermatitis: An Overview
Atopic dermatitis (AD), also known as atopic eczema, is a type of skin inflammation (dermatitis). It results in itchy, red, swollen, and cracked skin. Clear fluid may come from the affected areas, which often thickens over time. While the condition may occur at any age, it typically starts in childhood with changing severity over the years. In children under one year of age, much of the body may be affected.
According to the National Eczema Association 2020, Itch is the most burdensome symptom of AD, followed by skin redness and dryness. A recent study of adults with moderate to severe AD found that 70.5% reported severe, unbearable itch in the past two weeks, 85.8% reported daily itch, and 62.8% reported itching at least 12 hours per day.
Atopic Dermatitis Market Key Facts
As per the National Eczema Association (2019), Atopic dermatitis (AD) is the most common type of eczema. In fact, more than 18 million American adults have atopic dermatitis, which often appears as a red, itchy rash normally on the cheeks, arms, and legs.

In the United States, the prevalent population of Atopic Dermatitis was found to be 19,460,609 in 2017.

As per DelveInsight's estimate, a higher prevalent population of uncontrolled Atopic Dermatitis is observed in the United States as compared to EU5 countries and Japan.

Females are affected more than males in the case of Atopic Dermatitis.
Atopic Dermatitis market size is expected to increase in the coming years owing to the rise in the number of prevalent cases of Atopic Dermatitis patients in the 7MM.
The market outlook section of the report helps to build a detailed comprehension of the historical, current, and forecasted Atopic Dermatitis market size by analyzing the impact of current and emerging pipeline therapies. It also provides a thorough assessment of the market drivers & barriers, unmet needs, and emerging technologies set to impact the market dynamics.
The report gives complete detail of the Atopic Dermatitis market trend for each marketed drug and mid & late-stage pipeline therapies by evaluating their impact based on the annual cost of therapy, their Mechanism of Action (MoA), Route of Administration (RoA), molecule types, competition with other therapies, brand value, and their impact on the market.
Atopic Dermatitis Epidemiology
The epidemiology section provides insights into the historical, current, and forecasted epidemiology trends in the seven major countries (7MM) from 2019 to 2032. It helps to recognize the causes of current and forecasted epidemiology trends by exploring numerous studies and research. The epidemiology section also provides a detailed analysis of diagnosed and prevalent patient pool, future trends, and and views of key opinion leaders.
Atopic Dermatitis Drugs Uptake and Pipeline Development Activities
The drugs uptake section focuses on the rate of uptake of the potential drugs recently launched in the Atopic Dermatitis market or expected to get launched during the study period. The analysis covers Atopic Dermatitis market uptake by drugs, patient uptake by therapies, and sales of each drug.
Moreover, the therapeutics assessment section helps understand the drugs with the most rapid uptake and the reasons behind the maximal use of the drugs. Additionally, it compares the drugs based on market share.
The report also covers the Atopic Dermatitis Pipeline Development Activities. It provides valuable insights about different therapeutic candidates in various stages and the key companies involved in developing targeted therapeutics. It also analyses recent developments such as collaborations, acquisitions, mergers, licensing patent details, and other information for emerging therapies.
Major Clinical and Commercial Developments in the Atopic Dermatitis Therapeutics Market
On Sept. 28, 2022, Evommune announced the enrollment of the first patient in a Phase 2a proof-of-concept clinical trial evaluating EVO101, a novel small molecule inhibitor of interleukin 1 receptor-associated kinase 4 (IRAK4), in patients with atopic dermatitis (AD).
On Sept. 15, 2022, Alphyn Biologics announced that it had closed a Series A financing round of approximately $3.3 million. The Series A financing will support the Phase2a clinical trial of AB-101a. Alphyn is working on its lead candidate AB-101a to treat mild-to-moderate atopic dermatitis (AD).
Learn How Atopic Dermatitis Market Will Evolve by 2032 @ https://www.delveinsight.com/sample-request/atopic-dermatitis-ad-market
Atopic Dermatitis Therapeutics Analysis
The dynamics of the Atopic Dermatitis market are anticipated to change in the coming years owing to the improvement in the diagnosis methodologies, raising awareness of the disease, incremental healthcare spending across the world, and also the expected launch of emerging therapies.
Some of the key Companies in the Atopic Dermatitis Market include:
Pfizer

AbbVie

Daiichi Sankyo

Novartis Pharmaceuticals

PurGenesis Technologies
And many others.
Atopic Dermatitis Therapies Covered in the Report Include:
Abrocitinib

ZPL389

DS-2741a

Upadacitinib

PUR0110
And many more.
Further Emerging Drugs & Key Companies are Covered in the Report. Download the Sample PDF to Learn More –
https://www.delveinsight.com/sample-request/atopic-dermatitis-ad-market
Table of Content (TOC)
1. Key Insights
2. Executive Summary
3. Atopic Dermatitis Competitive Intelligence Analysis
4. Atopic Dermatitis Market Overview at a Glance
5. Atopic Dermatitis Disease Background and Overview
6. Atopic Dermatitis Patient Journey
7. Atopic Dermatitis Epidemiology and Patient Population (In US, EU5, and Japan)
8. Atopic Dermatitis Treatment Algorithm, Current Treatment, and Medical Practices
9. Atopic Dermatitis Unmet Needs
10. Key Endpoints of Atopic Dermatitis Treatment
11. Atopic Dermatitis Marketed Products
12. Atopic Dermatitis Emerging Drugs and Latest Therapeutic Advances
13. Atopic Dermatitis Seven Major Market Analysis
14. Attribute Analysis
15. Atopic Dermatitis Market Outlook (In US, EU5, and Japan)
16. Atopic Dermatitis Access and Reimbursement Overview
17. KOL Views on the Atopic Dermatitis Market
18. Atopic Dermatitis Market Drivers
19. Atopic Dermatitis Market Barriers
20. Appendix
21. DelveInsight Capabilities
22. Disclaimer
*The Table of Contents (TOC) is not exhaustive; the final content may vary. Refer to the sample report for the complete table of contents.
Download Sample PDF to Explore the Key Offerings of the Report:

https://www.delveinsight.com/sample-request/atopic-dermatitis-ad-market
About DelveInsight
DelveInsight is a leading Business Consultant and Market Research Firm focused exclusively on life sciences. It supports pharma companies by providing comprehensive end-to-end solutions to improve their performance.
Other Trending Healthcare Reports By DelveInsight
"Pachyonychia Congenita Market" research report provides a detailed overview of the historical and forecasted epidemiology as well as the Pachyonychia Congenita Market size, share, and trends in the 7MM (i.e. the United States, EU5 (Germany, Spain, Italy, France, and United Kingdom) and Japan). Additionally, it also covers the latest innovations, breakthroughs, emerging therapies, and key companies operating in the therapeutics market.
Media Contact
Company Name: DelveInsight Business Research LLP
Contact Person: Shruti Thakur
Email: Send Email
Phone: 09650213330
Address:304 S. Jones Blvd #2432
City: Las Vegas
State: NV
Country: United States
Website: https://www.delveinsight.com/