​​The "Plan A" Diet Offers a Fresh Perspective on the Growing Interest in Plant-Based Nutrition – and Why Christians Should be Paying More Attention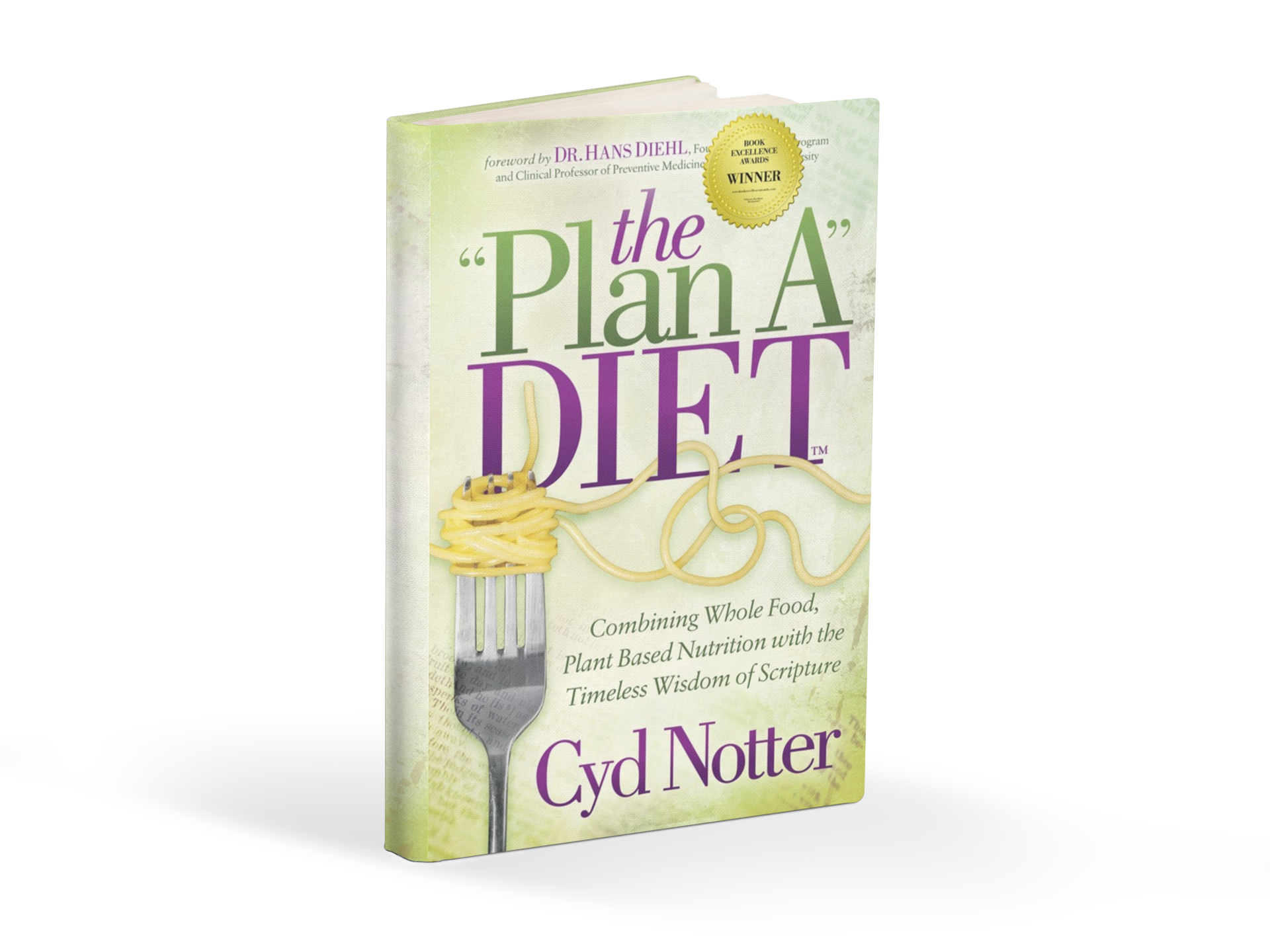 A rare blend of both science and biblical principles, The "Plan A" Diet enables readers to regain their health through a simple, achievable program
Despite all the diet plans available and the trillions of dollars spent annually on health care, the U.S. continues to rank as one of the heaviest and sickest nations on the planet. In her book, The Plan A Diet: Combining Whole Food, Plant Based Nutrition with the Timeless Wisdom of Scripture, Nutrition Educator and Award-winning Author Cyd Notter says the answer to our increasing weight and health struggles is a simple plan that's within our control – the three to five pounds of food we ingest every day.
For frustrated dieters and those dealing with declining health, Notter says that we have far more control over these matters than we may have ever believed. "Poor food choices are not only our #1 cause of disability and premature death, they're also a major factor in up to 90% of our ailments. Food is by far the greatest determinant of our health outcomes, even if we're predisposed to some genetic malady," she says. "But thanks to the power of plant-based nutrition, we can now prevent, halt, or completely reverse our everyday ailments and top leading killers – including our #1 killer, heart disease." That alone, according to Notter, should be worthy of our attention.
Notter combines her decades-long study of both nutrition and scripture to provide answers to those who are ready to reap the incredible benefits that come from living in harmony with their design – permanent weight loss, pain reduction, improved mobility, increased energy, and clearer thinking, just to name a few. She describes her book as "a gimmick-free plan that does not rely on calorie counting, food deprivation, or willpower. Instead, let's get back to the basics of a delicious whole food diet, featuring plant-based versions of sloppy joes, burgers, burritos, chili, lasagna, and chocolate desserts."
The "Plan A" Diet encourages readers to take an active role in their health. "Because health is a great equalizer, this book will help anyone – regardless of their spiritual beliefs," Notter explains. "But believers have a deeper responsibility because scripture compels us to be good managers of our bodies and take ownership of our behaviors. Sadly, today's Christians fare no better than the general population when it comes to obesity and diet-related illnesses, both of which hinder our ability to function and limit the abundant life God desires for us. This book was written to hopefully change that."
Motivations for the book stem not only from Notter's desire to help those suffering with weight and health issues, but to educate those who are confused by the widespread availability of conflicting nutritional information. "One day coffee is good, the next day it's bad. Grains are healthy versus grains should be avoided. Carbs are necessary versus carbs are evil. It's easy to see why the public is nutritionally confused," she states. That's why her book includes seven pointers to help people evaluate everything they hear and read.
Also included in this rather unique book are:
• Useful insights for dealing with resistance to change
• A 7-day Meal Plan, plus an optional 5-week Transition Plan
• Prayer, biblical encouragement, and discussion questions
The "Plan A Diet" is an excellent resource for anyone interested in learning more about healthy nutrition. Signed copies of this acclaimed book are available on the author's website, https://cydnotter.com.
The book is also available on Amazon and other online retailers. Readers are encouraged to purchase their copy today: https://www.amazon.com/Plan-Diet-Combining-Nutrition-Scripture/dp/1642793701
About the Author
Cyd Notter is a graduate of the Center for Nutrition Studies, a certified instructor for The Starch Solution and other dietary courses, and a past newspaper columnist. In 2011, Cyd founded The "Plan A" Diet and went on to later release an award-winning book by that title. For over 25 years, Cyd has offered a variety of health and cooking classes, both locally and online. To learn more about Cyd, please visit https://cydnotter.com/.
Connect with Cyd Notter:
Facebook: https://www.facebook.com/groups/ThePlanADiet
LinkedIn: https://www.linkedin.com/in/cydnotter/
Instagram: https://www.instagram.com/cyd_notter/
Media Contact
Company Name: Author News Network
Contact Person: Media Relations
Email: Send Email
Country: United States
Website: authornewsnetwork.com