RenovoRx, Inc. Shares Surge 117% YTD As Multiple Catalysts Come Into Focus ($RNXT)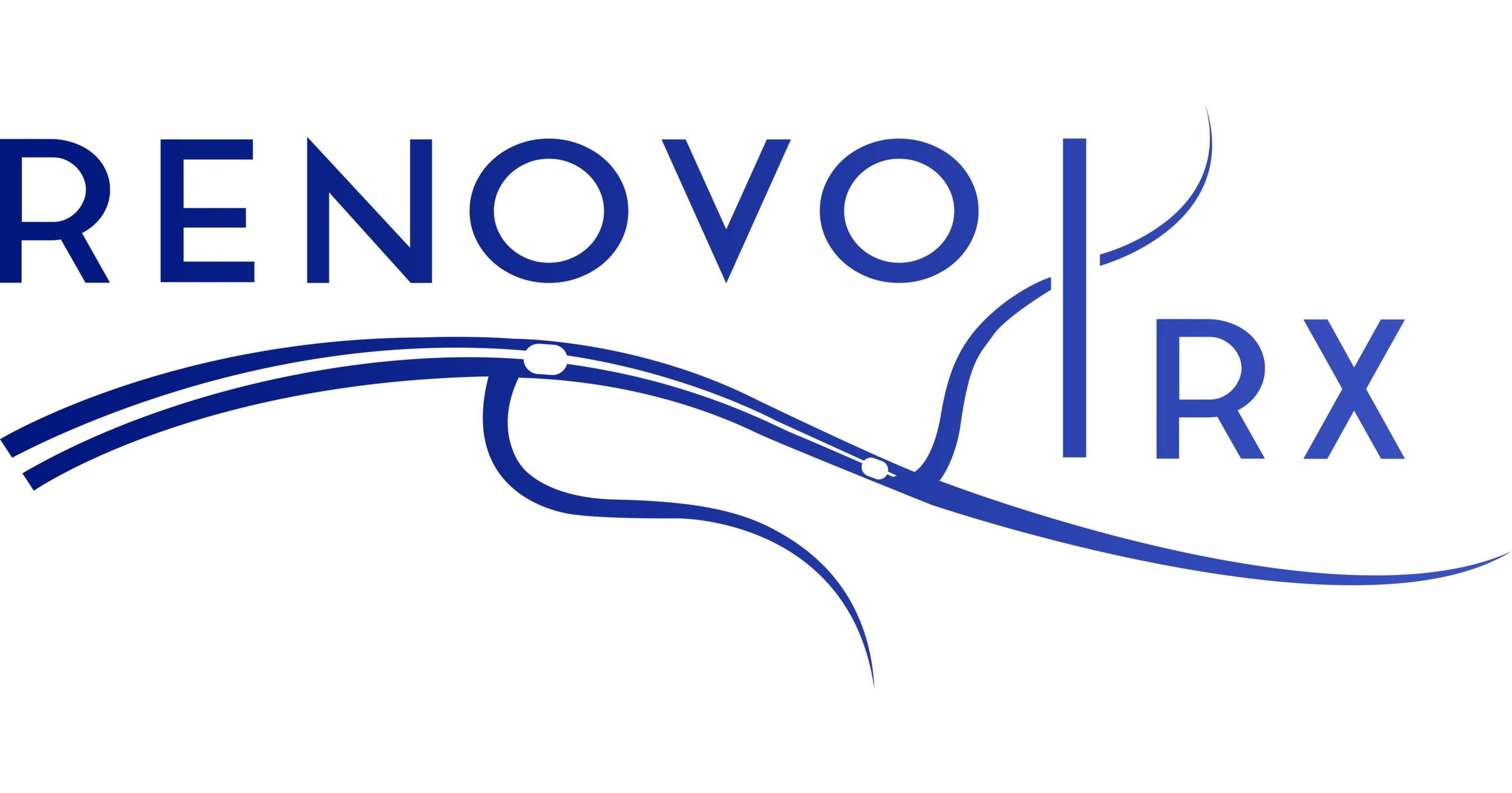 There can be no argument. RenovoRx, Inc. (NASDAQ: RNXT) shares are in rally mode, surging by over 92% since February. And on a YTD basis, the gains are more impressive, scoring an over 117% increase at press time on Wednesday and posting a new intraday 52-week high in the process*. (*share price of $5.10 on 03/01/23, Yahoo! Finance, 02:36pm EST compared to $2.35 closing price on 12/30/22)
Plenty supports the case that the RNXT bulls have it right. Most recently, news from this clinical-stage biopharmaceutical company shows its well on track to disrupt the current cancer treatment paradigm. In other words, RNXT isn't a follower; it wants to change the rules for how cancer can get treated and is already blazing a new trail to revolutionize oncology therapy through a platform that delivers proprietary innovative and targeted intra-arterial (IA) delivery of chemotherapy directly to solid tumors.
The most excellent news about its treatment candidates is that they show more than targeted effectiveness; its RenovoRx Trans-Arterial Micro-Perfusion (RenovoTAMP®) therapy platform is also demonstrating the unique ability to avoid the harsh side effects typical of the current standard of care, with data supporting improved patient well-being and extension of life.
In layperson's terms, RNXT is proving its RenovoTAMP platform could be a game-changer in the cancer treatment landscape. If so, with billions in potential revenues at stake from a massive global market opportunity and despite the recent surge, the path of least resistance is likely higher. And deservedly so.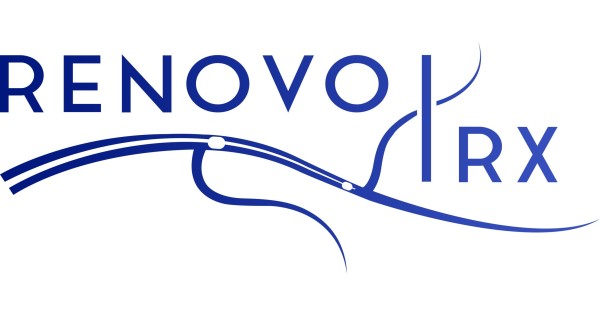 RenovoTAMP- Better By Design
That bullish presumption is validated by the value inherent to its RenovoTAMP platform. It's an innovative asset designed to utilize approved chemotherapeutics with validated mechanisms of action and established safety and side effect profiles that increase local delivery of the chemotherapeutic while reducing the often-debilitating side effects associated with systemic delivery.
That's an important distinction considering that while the oncology field continues to progress in treating certain cancers, toxicity concerns and limitations of chemotherapy still remain a significant barrier to delivering an adequate standard of care treatment. With that in mind, it's important to remember that the common objective in chemotherapy treatment innovation is to enhance the therapeutic dosing while minimizing systemic toxicity.
But as important as that, so is that objective and also minimizing drawbacks of the current standard of chemotherapeutic care for most cancers, which must deliver chemotherapy throughout the body and, as a result, often causes unintended and severe side effects. RNXT's platform addresses those concerns.
And it's no longer a secret after RNXT announced initial results from a pharmacokinetic (PK) substudy within the phase III un-blinded randomized control TIGeR-PaC clinical trial at the 2023 ASCO Gastrointestinal (ASCO GI) Cancers Symposium. The TIGeR-PaC clinical trial is evaluating intra-arterial (IA) administration of gemcitabine (chemotherapy) using the proprietary RenovoTAMP platform for targeted treatment of Locally Advanced Pancreatic Cancer (LAPC).
The excellent news so far, and a probable reason for shares spiking, is that beyond targeted effectiveness, the substudy also provides clinical support that RenovoTAMP may increase local drug delivery and concentration at the tumor site while decreasing the debilitating side effects often associated with the standard of care systemic intravenous (IV) delivery. That's not all generating optimism.
Ongoing Phase III Trial Nearing Data Release
RNXT's Phase III TIGeR-PaC study is also attracting investors' attention. It's an un-blinded randomized multi-center trial evaluating using RenovoRx's innovative therapy platform, RenovoTAMP®, with gemcitabine as a potential treatment option for LAPC. The study is evaluating RNXT's flagship candidate RenovoGem™ to treat locally advanced pancreatic cancer following stereotactic body radiation therapy through the intra-arterial delivery of the FDA-approved chemotherapy, gemcitabine.
Specifically, the 114-patient randomized study has a primary endpoint of overall survival and several secondary endpoints, including quality of life. All patients receive stereotactic body radiation therapy and induction chemotherapy, with 57 patients in each arm. The final analysis will be conducted after 86 deaths from the SBRT population, with at least two planned interim analyses, the first upon 30% (26 of 86) of the total and the second upon 60% (52 of 86) of the total. To date, 47 out of 114 target post-SBRT/chemotherapy patients have been randomized in the TIGeR-PaC trial, and RNXT has received reports of 25 events (deaths) in this population.
While investing in Phase III companies can put the value from potential catalysts in the crosshairs, having value to fall back on matters, too. RNXT has that.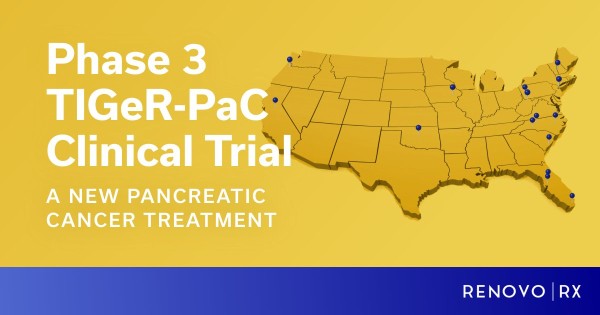 Advancing RenovoGem Evaluations In Phase II/III Study
RenovoRx is also finalizing plans to study RenovoGem in a Phase II/III CouGAr clinical trial evaluating its use against bile duct cancer (eCCA), a rare and aggressive cancer that forms in bile ducts. Bile ducts are thin tubes carrying digestive fluid, bile, from the liver to other digestive organs. The problem from a diagnosis perspective is that the disease often starts in the bile ducts outside the liver, meaning that most people do not have symptoms until the condition becomes more advanced. Thus, the progressed disease becomes much harder to treat or cure. RNXT intends to change that dynamic.
And the more excellent news is that RNXT is in an enviable position to do so, with an Orphan Drug Designation for Cholangiocarcinoma that, should RNXT become the first to earn FDA approval for intra-arterial gemcitabine for the treatment of eCCA, allow them to benefit from seven years of orphan exclusivity to market RenovoGem for the eCCA indication. Notwithstanding success in its Phase III trial, that, too, can be a transformative moment for RNXT, noting that the market is expected to become a more than $429 million treatment opportunity by 2029. It's a big prize, leading big pharma Merck (NYSE: MRK) and Incyte (NASDAQ: INCY) to enter the race to earn front-line designations.
Still, don't assume that big pharma will win the race. There's plenty of room for a small cap like RNXT to bring a front-line treatment to the markets. And that could have intended good consequences for a company like RNXT, which has the resources to seize opportunities as a stand-alone but may also leverage interim data to fuel outside interests. In other words, ruling out potential partnerships or licensing deals for RNXT may be shortsighted.
Moreover, while the race is on, it could result in some friendly competition putting several potential outcomes in play. Data suggests RenovoRx is in an excellent position to capitalize on multiple possibilities.
Pipeline Expansion With Discovery Phase Programs
There's still more to like. RenovoRx also announced plans to launch pre-clinical studies to explore the effectiveness of RenovoGem in treating other solid tumors, such as locally advanced lung cancer, uterine tumors, and glioblastoma. Treating those indications puts additional hundred million dollar plus revenue-generating opportunities in the crosshairs.
Know this, too. Companies advancing platforms like RNXT have significantly more upside potential to earn attention from companies needing access to a proven delivery system. Hence, while the above indications are in the Discovery phase, don't rule out RNXT being able to attract some outside interest from companies needing a jump start to gain a competitive advantage.
Remember, the objective of the RenovoTAMP platform is to improve the quality of life of patients fighting difficult-to-treat cancers and reduce the debilitating side effects typical of standard-of-care systemic chemotherapy. Those goals aren't uncommon. What is is that other companies may have a candidate but not the platform to deliver it. With RNXT's platform potentially a universal tool to do that, it adds considerable intrinsic and inherent value to RenovoRX near and long term.
Thus, pre-clinical programs should never be ruled out as value drivers. In fact, these under-the-radar programs often surprise investors with their inherent value, with that value exposed through a single headline few saw coming. Don't rule out that possibility from the RNXT pipeline.
A Rally Deserved, And It Has A Tailwind
Current trading indicates that investors are indeed paying attention and getting clued into the RNXP value proposition. And despite the YTD gains, appraising RNXT on a sum total of its parts still keeps plenty of potential appreciation in play. Contributing to that assumption is RNXT having an ongoing phase III trial, a developing Phase II/III trial, and a discovery phase program that combines to target cancer indications with an innovative platform that can change the direction of how many diseases requiring chemotherapy get treated.
That's not all; investors can evaluate published clinical data to support the bullish proposition. Notably, RNXT's Phase I/II trial demonstrated a median survival of 27.9 months vs. 12-15 months reported in historical studies for pancreatic and bile duct cancer patients. In addition, value is inherent to RenovoRx securing two separate Orphan Drug Designations from the FDA for intra-arterial gemcitabine. All told, that's an impressive sum of assets for a $5.10 stock.
But here's the better news and probably the most attractive part of the RNXT consideration. If history can repeat, with RNXT publishing additional positive and confirmatory data from its Phase III TIGeR-PaC clinical trial to treat pancreatic cancer, an already hot RenovoRx stock could get scorching. After all, shares of late-stage Phase III companies with billion-dollar assets usually do. And with data in the near-term queue, that could be why RNXT shares are starting to percolate.
Disclaimers: Shore Thing Media, LLC. (STM, Llc.) is responsible for the production and distribution of this content. STM, Llc. is not operated by a licensed broker, a dealer, or a registered investment adviser. It should be expressly understood that under no circumstances does any information published herein represent a recommendation to buy or sell a security. Our reports/releases are a commercial advertisement and are for general information purposes ONLY. We are engaged in the business of marketing and advertising companies for monetary compensation. Never invest in any stock featured on our site or emails unless you can afford to lose your entire investment. The information made available by STM, Llc. is not intended to be, nor does it constitute, investment advice or recommendations. The contributors may buy and sell securities before and after any particular article, report and publication. In no event shall STM, Llc. be liable to any member, guest or third party for any damages of any kind arising out of the use of any content or other material published or made available by STM, Llc., including, without limitation, any investment losses, lost profits, lost opportunity, special, incidental, indirect, consequential or punitive damages. Past performance is a poor indicator of future performance. The information in this video, article, and in its related newsletters, is not intended to be, nor does it constitute, investment advice or recommendations. STM, Llc. strongly urges you conduct a complete and independent investigation of the respective companies and consideration of all pertinent risks. Readers are advised to review SEC periodic reports: Forms 10-Q, 10K, Form 8-K, insider reports, Forms 3, 4, 5 Schedule 13D. For some content, STM, Llc., its authors, contributors, or its agents, may be compensated for preparing research, video graphics, and editorial content. STM, LLC has been compensated up to four-thousand-dollars cash via wire transfer by a third party to produce and syndicate content for RenovoRX, Inc. for a period of two weeks ending on 3/12/23. As part of that content, readers, subscribers, and website viewers, are expected to read the full disclaimers and financial disclosures statement that can be found on our website. The Private Securities Litigation Reform Act of 1995 provides investors a safe harbor in regard to forward-looking statements. Any statements that express or involve discussions with respect to predictions, expectations, beliefs, plans, projections, objectives, goals, assumptions or future events or performance are not statements of historical fact may be forward looking statements. Forward looking statements are based on expectations, estimates, and projections at the time the statements are made that involve a number of risks and uncertainties which could cause actual results or events to differ materially from those presently anticipated. Forward looking statements in this action may be identified through use of words such as projects, foresee, expects, will, anticipates, estimates, believes, understands, or that by statements indicating certain actions & quote; may, could, or might occur. Understand there is no guarantee past performance will be indicative of future results. Investing in micro-cap and growth securities is highly speculative and carries an extremely high degree of risk. It is possible that an investors investment may be lost or impaired due to the speculative nature of the companies profiled.
Media Contact
Company Name: STM, LLC.
Contact Person: Michael Thomas
Email: [email protected]
Phone: 917-773-0072
Country: United States
Website: https://primetimeprofiles.com/