12 Days Free Cyber Awareness MasterClass for Youngsters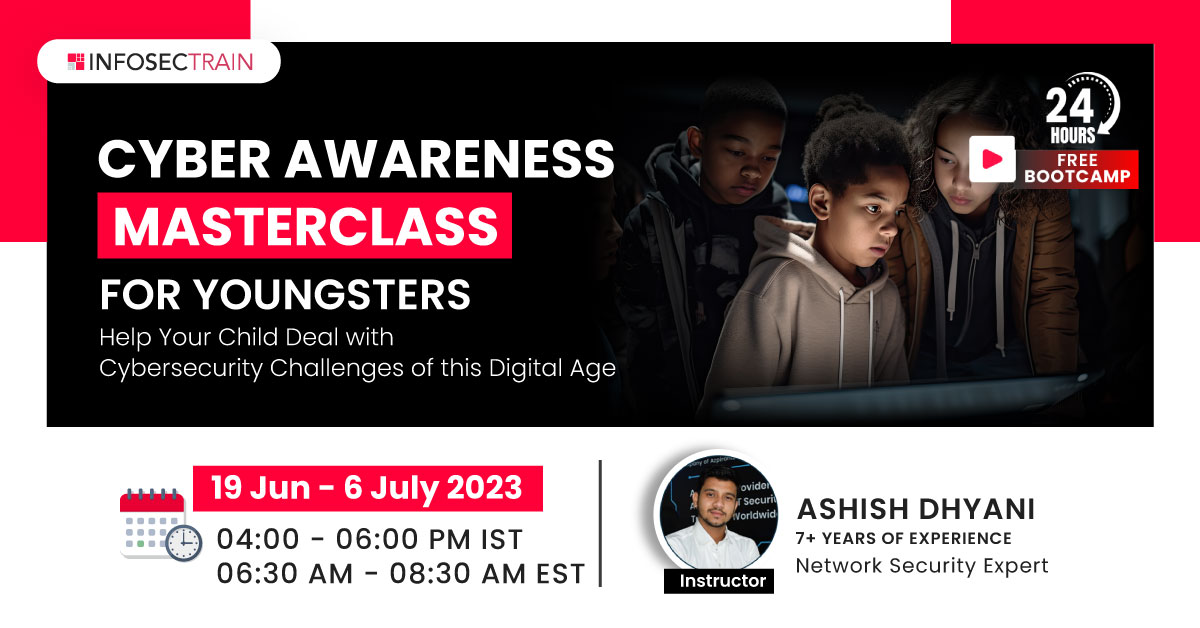 Infosec Train to Host a Free Cyber Awareness 12-Day Workshop for Youngsters.
Speaker: ASHISH (7+ years of experience as a Cybersecurity Expert)
What:
In light of COVID-19, the prevalence of online education has increased, creating a heightened risk of cyber threats for children. Given that technology has become an integral part of our daily lives, it's crucial for kids, teenagers and young adults to be knowledgeable about how to stay safe online. Since more than 70% of students have access to the internet, prioritizing internet safety is imperative. By teaching children about cyber risks, we can safeguard their personal safety and make them cyber-aware citizens of tomorrow. Infosec Train in this regard is launching a free 12-Day Cyber Awareness Workshop for Youngsters to help them cope with the cyber risks of the digital age.
When:
19th June 2023 to 6th July 2023
4:00 PM to 6:00 PM (IST)
Why attend:
This workshop at Infosec Train will help participants gain valuable knowledge on safe internet practices. Attendees will have the opportunity to learn, share, and discuss ways to recognize and avoid phishing scams, create strong passwords, and utilize privacy settings on social media platforms. Additionally, Ashish who is an expert in Cyber Security will cover the risks associated with sharing personal information online, methods to secure your devices against malware, how to protect against cyber-bullying and strategies to prevent identity theft.
Agenda for the webinar
Introduction to Cybersecurity
Protecting Your Personal Identity in the Cyber World
Preventing Cyber Bullying and Following Cyber-Etiquette
Protecting against Cyber Fraud and Scams
Introduction to Ethical Hacking and Penetration Testing
Introduction to Cloud Computing
Maintaining a Secure Digital Environment with SOC
Hacking your first Android Device – Practical
Registration Link:
https://www.infosectrain.com/events/cyber-awareness-masterclass-for-youngsters/
About Infosec Train:
Infosec Train is a leading IT security training organization based in India with presence across the globe. As pioneers in cybersecurity training and consultancy, the expertise of the company in this domain is unmatched. The organization also promises to offer post-training support and recorded sessions for post-training reference.
To know more about training programs offered by InfosecTrain:
Please write back to [email protected] or call at IND: 1800-843-7890 (Toll Free) / US: +1 657-221-1127 / UK: +44 7451 208413 / UAE: +971 564 23 6252
LinkedIn: https://www.linkedin.com/company/infosec-train/
Media Contact
Company Name: InfosecTrain (An Intiative by Azpirantz Technologies LLP)
Contact Person: Vikas Agrawal
Email: Send Email
Phone: 18008437890
Address:C19 (2nd floor), Block C, Sector 2
City: Noida
State: Uttar Pradesh 201301
Country: India
Website: www.infosectrain.com