Pergolas: A Source of Shade in Home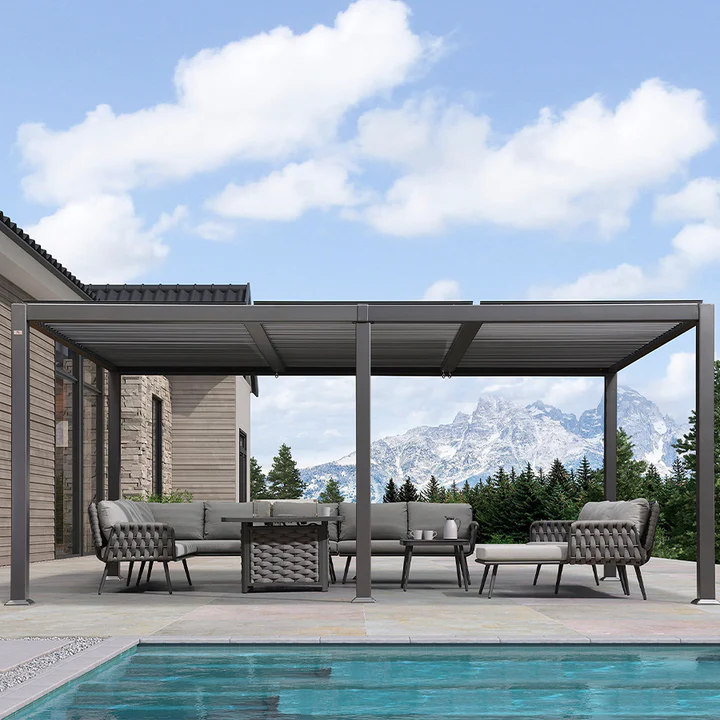 Pergolas are timeless structures since they have been around for centuries. They initially emerged from ancient Egyptian civilization and later became common amongst Romans as well. Surprisingly, they still continue to be an architectural marvel and one of the top-demanding products in modern times. But why?? That's mainly due to their blending properties of beauty and functionality.
Generally, pergolas are not just mere outdoor structures. They are considered a symbol of elegance and sophistication, especially in outdoor spaces. Thus, a single pergola installment can transform your random space into a private oasis, whether you have a sprawling garden or a cozy patio. It offers endless possibilities for outdoor living, such as providing shade on sunny days to create an intimate gathering spot for friends and family.
In this article, you will explore how these stunning structures can become a source of shade and actually enhance your lifestyle while adding value to your home.
Science Underlying the Pergola's Function
The science behind pergola's shade providing quality revolves around three factors: light, geometry, and natural elements. Pergolas have a lattice-like structure that consists of vertical posts and cross beams that create an alluring dance of light and shadow.
They encounter obstacles in the form of beams as the sun's rays filter through the open structure. As a result, the light is scattered, creating a softer, dappled shade below. According to a survey, Traditional pergolas provide natural shade to a certain extent. In contrast, new technological advancements have increased their shading potential and capacity.
The Most Demanding Pergolas in the Market
Generally, five different types of pergolas have become a popular choice amongst buyers due to their different qualities. In this part, you will explore a wide range of pergolas available in the market and their unique features.
Traditional Pergolas
These pergolas are particularly known for their traditional design and timeless charm. They are typically made of wood and have open beams and rafters that create a sense of openness while providing shade. Traditional pergolas usually fit in perfectly with the surrounding environment, and their rustic appeal makes them a demanding option for people looking for a classic and exquisite outdoor space.
Louvered Roof Pergolas
For those who want more control over sunlight and ventilation, louvered pergolas are seen to be a great solution. These creative structures have louvers or slats that are adjustable and can be positioned to let in light or block it out as needed. Louvered pergolas eventually provide greater flexibility during the day, enabling homeowners to regulate the quantity of light and ventilation.
Aluminum Pergolas
Aluminum pergolas are a good option to think about if durability is your primary goal. These pergolas are explicitly made from strong, lightweight aluminum components. Compared to pergolas made of traditional wood, Aluminum pergolas require less maintenance. That's because they are resistant to rust, rotting, and fading. Aluminum pergolas are ideal for individuals looking for endurance without sacrificing style.
Metal Pergolas
Metal pergolas offer a contemporary turn on conventional designs for a sleek and modern appearance. Metal pergolas, which are made of steel or wrought iron, exhibit strength and elegance while offering sufficient support for hanging accessories like lights, curtains, or climbing plants.
Retractable Pergolas
Install retractable pergola systems if you want your outdoor living spaces to be versatile. These cutting-edge structures have motorized retractable canopies or screens that are simple to adjust according to the weather or individual preferences. Homeowners can use open-air spaces on sunny days or find shelter from the rain by extending or retracting the coverings.
Hence, there is a pergola type to fit every style and demand, whether you want the aesthetic appeal of a traditional pergola with roof, the adaptability of a louvered roof pergola design, the durability of aluminum or metal pergolas, or the versatility of a retractable system. You can choose a suitable Pergola for your outdoor haven from a wide collection.
Top 4 Benefits of Having a Pergola for Shade
This section will talk about several benefits that pergolas hold, especially when it comes to increasing outdoor living areas and offering shade. Here are four primary benefits of using a pergola specifically for shade:
Shielding From the Sun
The ability to offer shade from the sun's harsh rays is one of the main benefits of a pergola. Your outside space can be transformed into a shaded shelter where you can relax, entertain friends, or simply spend time alone without worrying about harmful rays from the sun.
Greater Comfort and Control Over the Temperature
You can enjoy your outside space even on the hottest summer days with the help of a pergola. By obstructing the sun's direct rays and establishing a more peaceful atmosphere, the structure helps to lower the temperature. This enables you to make the most of your outdoor living space all year round.
Promotes Value and Aesthetics.
In addition to being essential structures, pergolas enhance the beauty and elegance of any outdoor area. They can match the landscaping and architecture of your home as they are available in various designs and materials. Therefore, adding a well-designed pergola can dramatically raise your property's visual appeal while also raising its overall worth.
Flexible Design Possibilities
Additionally, pergolas provide limitless opportunities for personalization, enabling you to build an outdoor haven that matches your own preferences and style. As a result, you have the chance to select different materials, including wood or aluminum. For further privacy and diversity, you can even add features like retractable curtains or shades.
Tips for Maximizing Shade with Pergola
Many homeowners who wish to design a cozy and relaxing outdoor space emphasize on maximizing shade using a pergola. These five suggestions can help you make the most of the shade capacity from the pergola, whether you're trying to avoid the scorching heat or provide an oasis of peace to relax.
Strategic Positioning
Consider where you want to put your pergola with respect to the path the sun moves throughout the day. It is recommended to place a pergola on the east or west side of your house to provide the maximum shade during the hottest hours.
Size and Style
The size and design of a pergola are crucial variables in maximizing shade when it comes to developing a comfortable outdoor area. The amount of shade a pergola may cast depends on its size.
Solutions for Shade Integration
You may enhance the amount of shade a pergola provides by adding other elements like retractable canopies, curtains, or shades. Depending on the time of day and the desired degree of shade, these adaptable additions can be changed.
Vegetation and Vines
Consider covering your pergola frame with climbing plants or vines. They not only enhance the design and natural aesthetics, but they also provide additional shade as they enlarge and blend in.
Use of Fabric
To improve the shade potential of your pergola, experiment with several fabric varieties. Attach lightweight curtains that may be swiftly drawn, or install UV-resistant sail shades for more privacy and sun protection.
The Bottom-Line
In conclusion, pergolas with roofs undeniably offer shade and have multiple benefits. Whether for relaxing or hosting visitors, investing in a pergola will undoubtedly improve your outdoor experience while boosting the value of your house.
Where to Buy Pergola?
Visit the Purple Leaf website (PurpleLeafShop.com) if you're looking to purchase a Pergola that is suitable for the outdoor spot. Purple Leaf provides a variety of high-quality pergolas designed to improve your outdoor living space.
Purple Leaf Shop has a wide selection of pergolas to fit every style and budget range, whether you're looking for a traditional wooden pergola or a modern pergola with louvered roof. It's easy to browse their user-friendly website and pick the ideal pergola that meets your particular requirements.
Media Contact
Company Name: Purple Leaf
Contact Person: Hannah
Email: Send Email
Country: United States
Website: https://purpleleafshop.com/